Villa Mahmut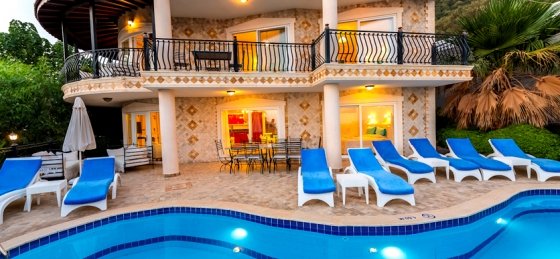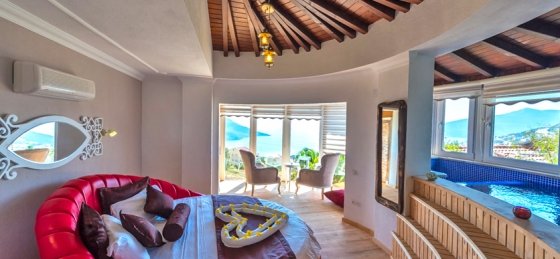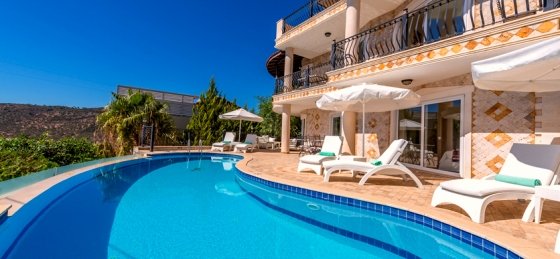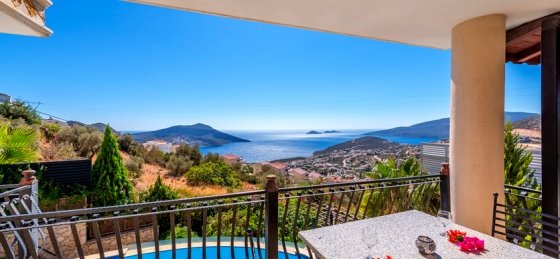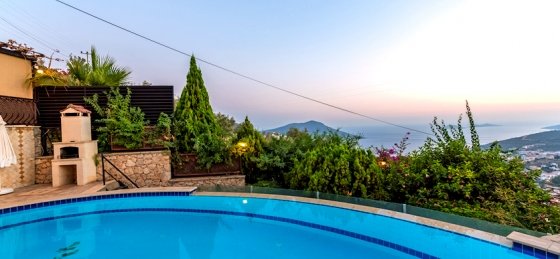 Villa Mahmut located in the popular tourist area of Kalkan offers you a fantastic hillside location for you to enjoy the luxury of panoramic sea views from your private villa. This 5 bedroom, 5 bathroom secluded villa invites you to breathe in the fresh mountain air whilst lazing around it's private outdoor pool under the Turkish sun. You'll find an abundance of outdoor space for various settings: fun around the pool? Check! Big family barbecue? Check! Romantic glass of wine whilst watching the sunset? Check!

As you step inside the warm, clean and neutral design and decoration welcomes you to settle in as if it was home. The subtle and calming design creates a serene atmosphere allowing the marvelous views to be the star of the show here. Mahmut has plenty on offer for you, in the master bedroom you will find a private indoor pool ideal for romantic hideaways.
Although this location is fantastically secluded it doesn't hold you too far away from the action. Indulge in local culture just a 10 minute drive away from Mahmut you'll find the local town. With restaurants, cafes, bars and shops galore there's so much to discover.
Ground Floor has the kitchen with a Dishwasher, Fridge/Freezer, Hob, Oven, Microwave, Toaster, Kitchenware, Dining Facilities, KettleLiving Room : Satellite TV, LCD TV, DVD/CD Player, Dining Facilities, WIFI, A/C Unit, Comfortable Seating, one Bedroom, a double Bed, Terrace, A/C unit
First Floor Bedroom : Double Bed, En-suite, Shower, Single washbasin, Toilet, Hairdryer, Jacuzzi bath, A/C unit . a further Bedroom which is a twin Bedroom with En-suite, Shower, Single washbasin, Toilet, A/C unit, the forth bedroom is a Double Bed, En-suite, Shower, Single washbasin, Toilet, A/C unit
Second Floor hosts a Bedroom which is a twin Beds with Balcony, A/C unit and a separate bathroom , with Shower, Single washbasin, Toilet, Washing machine

Garden Features : Built-in Barbecue, Sunbeds/Umbrellas, Garden Furniture, Table Tennis
GROUND FLOOR

LOUNGE

Comfortable Seating

DVD Player

Satellite TV

A/C

KITCHEN

Dining Facilities

Dishwasher

Fridge / Freezer

Hob

Microwave

Oven

Washing Machine

BEDROOM

BATHROOM

FIRST FLOOR

BEDROOM

Balcony

Twin Beds

A/C

Ensuite Bathroom

BEDROOM

Balcony

A/C

Double Bed

Ensuite Bathroom

MASTER BEDROOM

Balcony

A/C

Double Bed

Ensuite Bathroom

Sink

Jacuzzi Bath

WC

Shower

SECOND FLOOR

BEDROOM

BATHROOM

Washing Machine

WC

Sink

Shower

SERVICES

Cots

Hairdryers

Highchairs

Weekly Cleaning

Wi Fi

EXTERIOR FEATURES

Barbecue

Covered Dining Area

Swimming Pool

Table Tennis