Villa Dalyan Palace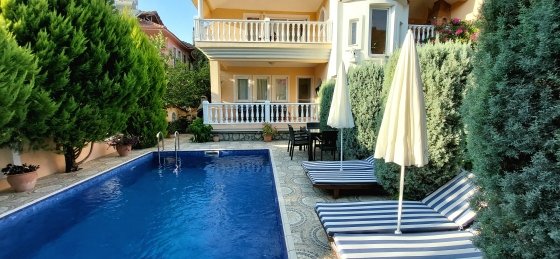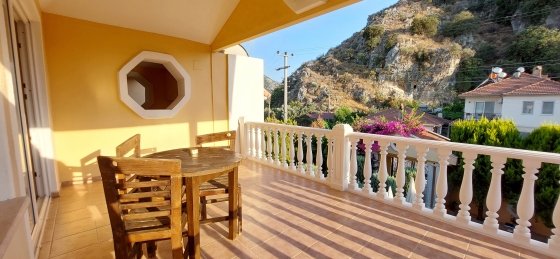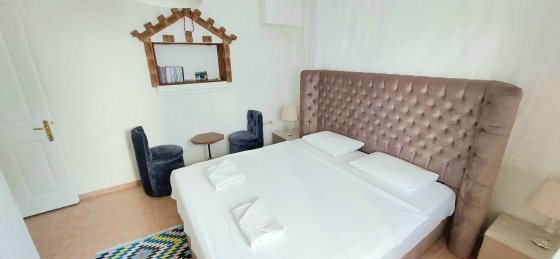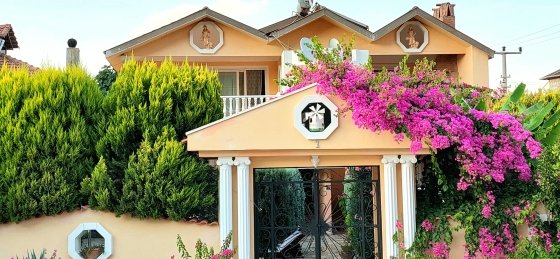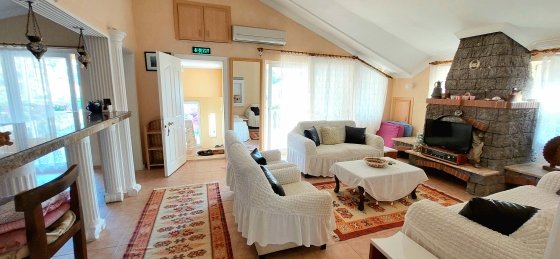 Dalyan Palace is a modern 5-bedrooms private villa with private pool built in one of the most beautiful areas of south west Turkey called Dalyan, that is famous with its three thousand years old Lycian Rock Tombs, Caretta Caretta Iztuzu Beach, Dalyan River, Mud Baths, Sultaniye Hot Springs and many other attractions. Dalyan is set on the winding Dalyan River that flows between the Mediterranean Sea and Lake Koycegiz.
This villa which is fitted out to the highest standards, is set in a quiet residential area of Dalyan and only a 5 minutes walk to the town centre that is surrounded with variety of shops and riverside restaurants to suit every taste.
This five bedroom villa is individually furnished to a very high standard as all modern amenities including air conditioning in every room, marble floors, and well refurbished new bathrooms. Kitchen is fully equipped with fridge freezer, washing machine, dishwasher, oven and hob, electric kettle and toaster. This villa has the opportunity of viewing the world famous Lycian Rock Tombs and mountains from the balconies.
This cosy villa is set on private land on the Iztuzu Beach road surrounded by the walls, lemon/spruces pines, and bougainvillea for increasing your privacy. The private natural salt system swimming pool is set on the left side of the garden as you walk into the villa. This pool has spacious area for outdoor shower and sun loungers to enjoy the sunshine. The other side of the garden which is also surrounded by plants and tree varieties has the outdoor sitting and dining area with BBQ.
The ground floor has a spacious open plan kitchen and living room which has 2 sofas both for three and 2 armchairs having access to a big balcony with Lycian Rock Tomb view. There are 3 bedrooms on this floor. First bedroom has 3 single beds and a TV on the wall. This room also has access to a spacious balcony overlooking to the pool. Second bedroom is en-suite with a big size double bed. The third bedroom has 2 single beds which is also en-suite. There is also one shared big family bathroom on this floor. All bedrooms have wardrobes and armchairs.
The independent indoor marble stairs leads you upstairs to the separate access door of the first floor.
First floor has a open plan kitchen and living room that is half separated by a marble breakfast bar stand. This fresh and light full living area has a decorative fireplace ,TV unit, 2 sofas and 2 arm chairs. Both kitchen and living room have access to their own the spacious terraces with Rock Tomb and mountain views. There are 2 bedrooms and a shared big size family bathroom which has shower, bath and toilet on this floor. First bedroom has 2 single beds. Second bedroom has a big size double bed. Both bedrooms have wardrobes, armchairs and balcony access.
Location of the villa is very convenient as being only a 5 minutes' walk away to town centre and river bank.
Our private duplex villa's benefit is having independent access to each floor. The externally designed indoor marble stairs leads you upstairs. While large groups or families stay together in the same villa and use the same private pool, they can enjoy their holidays more by relaxing and spending time in their own private areas with the advantage of independent lay-out settlements on each floor.
Even July and August are the busiest times in Dalyan, in our villa 'Dalyan Palace', you will find a quiet heaven away from the crowds, We made our dreams come through by building this wonderful villa on the airy private plot as our dream house. That will also make you an addition to our dreams by choosing our villa and becoming our guests.
GROUND FLOOR

LOUNGE

A/C

Balcony

Comfortable Seating

DVD Player

TV

KITCHEN

A/C

Washing Machine

Fridge / Freezer

Hob

Microwave

Oven

BEDROOM

Twin Beds

TV

Single Bed

Balcony

A/C

BEDROOM

A/C

Double Bed

Ensuite Bathroom

BEDROOM

A/C

Ensuite Bathroom

Twin Beds

BATHROOM

FIRST FLOOR

LOUNGE

A/C

Comfortable Seating

DVD Player

Fireplace

Terrace

TV

KITCHEN

Microwave

Oven

Washing Machine

Fridge / Freezer

Hob

Fridge

A/C

Dining Facilities

Dishwasher

BEDROOM

BEDROOM

BATHROOM

SERVICES

Cots

Hairdryers

Highchairs

Wi Fi

EXTERIOR FEATURES

Alfresco Dining Area

Barbecue

Shower

Swimming Pool