Sri Lanka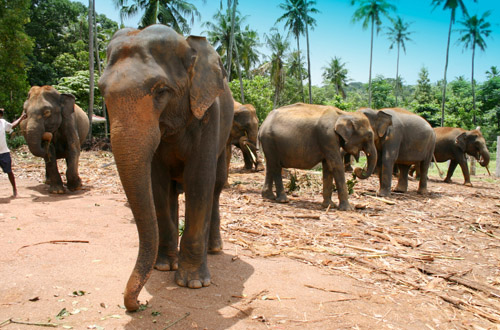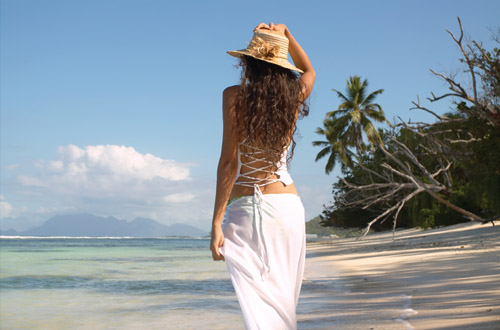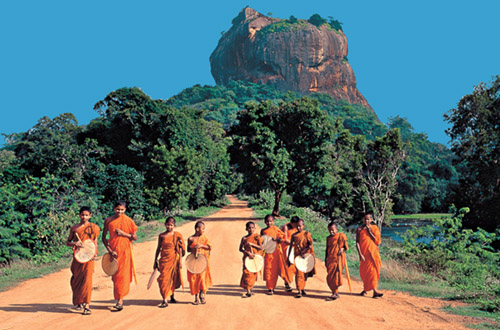 Introduction
A stunningly beautiful, 270 mile long tear-drop shaped island, hanging from the southern tip of Indian subcontinent amidst the waters of the Indian Ocean. The coastline is adorned with palm trees which front the expansive stretches of beach, interspersed with rocky promontories on which many of the fine resort hotels are located. The main resort areas are located on the Western side of the island, immediately above the capital, Colombo, and extending down below the city limits along the coastline towards and beyond the ancient fortress city of Galle. New developments are also to be found on the East coast, particularly in the area around Trincomalee. The verdant interior, which slowly climbs to a height of 2,000 metres, is rich in rivers, streams and waterfalls, spice gardens, tea plantations, mist-shrouded mountains, ravines, dense caches of tropical rainforest and wildlife sanctuaries. All of which is perfect for those wishing to combine their beach stay holiday with a scenic, culturally-rich, touring experience. Sri Lanka is home to some of the World's finest ancient, archaeological and historical sites, most of which dates back over 2,500 years. Both scenery and culture can be easily incorporated and combined within a compact touring itinerary, spread over 5 or 6 days.
Places to Visit
Cultural Experience - Sri Lanka presents a fascinating insight into a civilization with over 2,000 years of recorded history. With no less than seven UNESCO World Heritage Sites, a tour of the Cultural Triangle is highly recommended; from the impressive cave temples of Dambulla Rock to the moats and ramparts of the 5th Century rock-top palace complex at Sigiriya.


Safaris - A safari to one of the 12 National Parks offers the chance to see some of the 92 mammals that inhabit Sri Lanka. Yala National Park has the highest concentration of leopards in the World and although Uda Walawe is famous for its elephants, Minneriya National Park boasts the awesome dry season "Gathering", in which herds of the giant mammal congregate to drink the region's remaining water.


Eco-Tourism - The natural World Heritage Site of Sinharaja Forest Reserve is one of Sri Lanka's last remaining tracts of tropical rainforest, home to more than 50 per cent of the island's endemic species of mammals and butterflies.


Cuisine - Eating in Sri Lanka is an experience in itself, with national dishes offering a selection of fine offerings, similar in style to both Indian and Thai cuisine. Hotels in Sri Lanka offer international cuisine and fresh seafood is found in abundance throughout the island. Restaurants in the major towns and resort areas offer both local and international options.
Getting to and Travelling around
Sri Lanka's main gateway is Colombo. Sri Lankan Airlines flies direct from London Heathrow. Emirates flies from London Heathrow, London Gatwick, Manchester, Birmingham, Glasgow and Newcastle via Dubai. Qatar Airways flies from London Heathrow, London Gatwick and Manchester via Doha.
Best Time and Weather
Climate - Sri Lanka enjoys a year round tropical climate with an average coastal temperature of 27°C. The central hills are cooler with temperatures dropping to 14°C. The south-western monsoon brings rain to the western, southern and central regions from May to July. Seas may be choppy during this period and may not be safe for swimming. The north-eastern monsoon occurs in the north and east between December and January.


December to April is the peak whale-watching season in the south of the island, when both blue whales and sperm whales may be seen. In June, the attention switches to the eastern port of Trincomalee, where blue and sperm whales are observed even closer to land. Kalpitiya, a narrow peninsula north of Colombo, is good for dolphins year-round, too.
Important Information
Language
The official languages are Sinhala and Tamil. English is spoken in tourist areas.
Passports & Visas
British nationals require a visa for trips to Sri Lanka, and a passport valid for more than six months from the date of arrival
Health
A valid yellow fever vaccination certificate is required from all travellers who have passed through a partly or wholly infected area within the preceding six days. Protection against malaria is recommended for travel to certain endemic areas. Please always check with your GP.
Currency
Sri Lankan Rupee
Time
GMT + 5.5