Maldives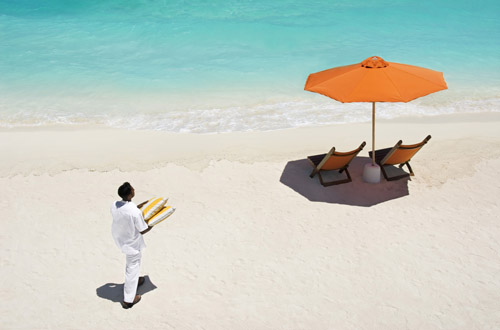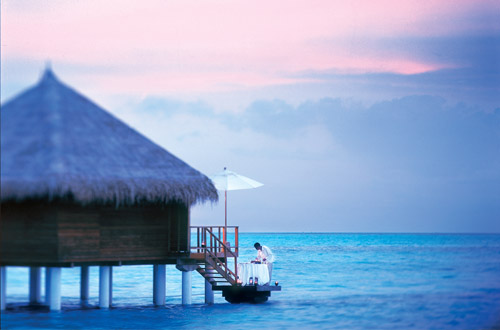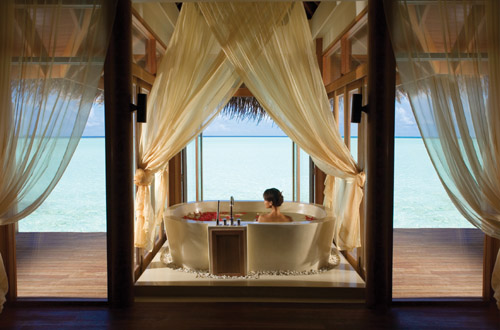 The Maldives is a tropical nation in the Indian Ocean composed of 26 ring-shaped atolls, which are made up of more than 1,000 coral islands. It's known for its beaches, blue lagoons and extensive reefs. The capital, Malé, has a busy fish market, restaurants and shops on the main road, Majeedhee Magu, and 17th-century Hukuru Miskiy (also known as Friday Mosque) made of carved white coral.
The Maldives has a year-round hot tropical climate. There are two monsoons, the southwest from May to October and the northeast from November to April. Generally the southwest brings more wind and rain in June and July. The temperature rarely falls below 25°C (77°F).

"Maldives has a pleasant weather year-round but the best time to visit is between December to April, as its summer in Maldives and is also the peak tourist season. There will be little or no rain during this time, hence, making it ideal for tourists to travel. Although the southwest monsoon from May to October is often wet and rainy, this period provides the best surf. Might some tourist prefer to come during this time simply cause resorts offer great deals which budget travellers can keep a track on."
By Air Male International Airport (MLE) is the main airport, which connects Maldives to all major countries in South-East Asia including India, China and Sri Lanka. There are also direct flights from Dubai, and chartered flights coming in from Europe, China and Singapore. The ferry to Malé leaves every 15 minutes, costs $1 USD, and is about a 20-minute ride. From Malé, take a taxi for around $5 to the main ferry station to access the other islands. To get around the islands, you can take a public ferry, but be sure to check the timetables as the ferries don't run every day of the week.

Hulhulé (Malé) - Velana International Airport
Velana International Airport (IATA: MLE, ICAO: VRMM) also known as Malé International Airport, previously known as Ibrahim Nasir International Airport, is the main international airport in the Maldives. It is located on Hulhulé Island in the North Malé Atoll, nearby the capital island Malé. Today, the airport is well connected with major airports around the world, mostly serving as the main gateway into the Maldives for tourists. It is managed financially and administratively by an independent corporate entity known as Maldives Airports Company Limited (MACL).

Gan (Addu City) - Gan International Airport
Gan International Airport (IATA: GAN, ICAO: VRMG) is located on the island of Gan in Addu Atoll (previously known as Seenu Atoll) in the Maldives

Hanimaadhoo (Haa Dhaalu) - Hanimaadhoo International Airport
Hanimaadhoo International Airport IATA: HAQ, ICAO: VRMH) is an airport located on the island of Hanimaadhoo in Haa Dhaalu Atoll, Maldives, opened as a domestic airport. It was upgraded to an international airport on 2 February 2012, with the introduction of direct flights to Thiruvananthapuram in India by Maldivian.

Maamingili (Alifu Dhaalu) - Villa International Airport
Villa International Airport Maamigili (IATA: VAM, ICAO: VRMV), also known as Maamigili Airport, is an airport in the Maldives. It is located on the island of Maamigili in Alif Dhaal Atoll.The airport was developed by Maldivian business tycoon Qasim Ibrahim, who grew up in Maamigili, as a project to develop the infrastructure and facilities of the island. Developed and operated by his company, Villa Group, the airport also opened up direct transportation facilities to two of their flagship resorts located on adjacent islands. The opening of the airport coincided with Villa's entry into the aviation industry, the founding of a new airline Villa Air (operating as Flyme), to operate from the airport. The airport opened on October 1, 2011 as a domestic airport. In 2013, it was upgraded to international airport standards. Villa Airport was downgraded to domestic status by the government for a period of 23 days in August 2014 over "security concerns". In January 2015, Flyme started seaplane operations out of Villa Airport.
Male Friday Mosque
The Malé Friday Mosque or the Malé Hukuru Miskiy also known as the Old Friday Mosque is one of the oldest and most ornate mosques in the city of Malé, Kaafu Atoll, Maldives. Coral boulders of the genus Porites, found throughout the archipelago, are the basic materials used for construction of this and other mosques in the country because of its suitability. Although the coral is soft and easily cut to size when wet, it makes sturdy building blocks when dry. The mosque was added to the tentative UNESCO World Heritage cultural list in 2008 as unique examples of sea-culture architecture.

National Museum in Male, Maldives (Ancient artifacts from Maldives history)
Address: Chaandhanee Magu, Malé, Maldives Hours: Closed ⋅ Opens 10AM Thu / Phone: +960 332-3206

Established on the National Day of the Maldives, the first national museum of the country was opened on November 11, 1952, by the Prime Minister at the time, Mohamed Amin Didi. With the purpose of preserving history and instilling patriotism among the people of the Maldives,[citation needed] the museum has a large collection of historical artifacts, ranging from stone objects to fragments of royal antiquities from the Buddhist era to the rule of Islamic monarchs.

Maafushi (Kaafu Atoll) - Known for its Beach, snorkeling, backpacking, and honeymoon.

Maafushi is one of the inhabited islands of Kaafu Atoll and the proposed capital for the Medhu Uthuru Province of the Maldives. It is noted for the Maafushi Prison.

Meeru Island - Known for Honeymoon, Snorkeling and its beach

Meeru Island, surrounded by a beautiful lagoon and long stretches of white, sandy beach, is the only Resort on the island of Meerufenfushi, North Male' Atoll in the Republic of Maldives. It is 1200 meters long by 350 meters wide, about 32 hectares. A speedboat transfer from Ibrahim Nasir International Airport is a 55 minute ride.

Hulhumalé - Known for its beach and snorkeling

Hulhumalé or Hulhulemale is a reclaimed island located in the south of North Male Atoll, Maldives. The artificial island was reclaimed to establish a new land mass required to meet the existing and future housing, industrial and commercial development demands of the Malé region. Hulhulmalé is located northeast of airport island Hulhulé.

Rasdhoo - Known for Snorkeling, Scuba diving and beach

Rasdhoo (Rasdu in the Admiralty Charts) is an inhabited island of the Maldives. It is also the capital of the Alif Alif Atoll administrative division. It is the only inhabited island of a small natural atoll known as Rasdhoo, Rasdu or Ross Atoll located a few miles off NE Ari Atoll. As of September 2016 Rasdhoo island boasts 16 guesthouses. There is public ferry from Malé on Sunday, Tuesday, Thursday that thakes 3 hours and 19 minutes.

Thoddoo (Alif Alif Atoll) - Known for seeing Manta Ray, Snorkeling and beach

Thoddoo is one of the inhabited islands of Alif Alif Atoll in the Republic of Maldives. This island is the largest producer of watermelon in Maldives. Watermelons are commonly produced during the holy month of Ramadan when demand in Malé peaks and prices are high.

Dharavandhoo - Known for seeing Manta Ray, Whale shark, Scuba diving, Snorkeling and beach

Dharavandhoo is one of the inhabited islands of Baa Atoll. This island is surrounded by clear waters known as 'Dharavandhoo Thila' & Hanifaru Bay; which are famous amongst divers around the world, for it is a sanctuary for a variety of marine life, including manta rays and whale sharks. This globally renowned eco-life zone is now strictly protected by law.

Himmafushi (Kaafu Atoll) - Surfing, Surf breack and beach

Himmafushi is one of the inhabited islands of Kaafu Atoll. It is located in North Malé Atoll. Himmafushi is about 18km from the airport - the only way you can reach it is by boat. Himmafushi, a local island geographically recognized for its world famous surfing and diving spots. The locals who relied for fishing and tourism as their livelihood are genuinely friendly. The island has its own fish processing company and a boat building facility to ease the demands of its own people.

Velassaru Maldives - Snorkeling, Honeymoon, Romantic place and beach
An upscale resort in the paradise of the Maldives, Velassaru Maldives Resort offers contemporary accommodation on a private island amidst the bright blue ocean. Its beautiful villas and bungalows are minimalistic and stylish, yet don't compromise in terms of comfort with a full range of amenities you can expect from a first class resort. Sink your feet into the fine white sand and savor the spectacular views of the sea against the clear sky. You can indulge in a spa session or other outdoor activities to fill your laid back days at this tropical haven. The cool sea breeze and soothing sound of the waves only add to the sense of intimacy and freedom at this ultimate hideaway. During a stay at this incredible property, guests will be privy to use the free Wi-Fi, tennis courts, and business center.
Visas. British nationals can get a tourist visa for up to 30 days on arrival in Maldives, provided you hold a valid onward or return ticket and enough funds to cover your stay. Staying for longer than 30 days without the proper authority is an offence.