Isadora Villa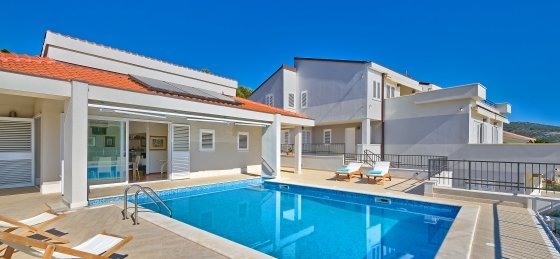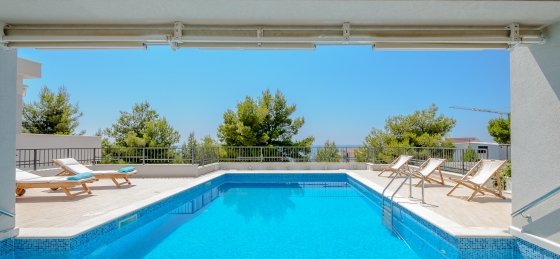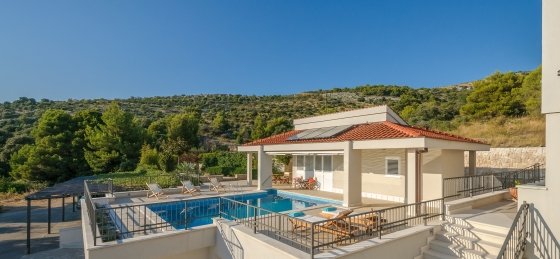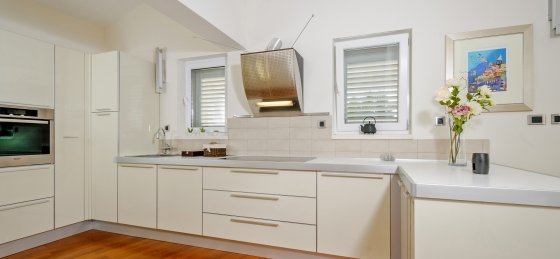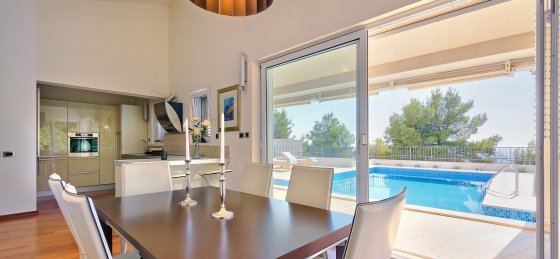 ISADORA
Villa Isadora is situated in a pine forest, which allows guests to enjoy their privacy just 210 m away from the sea.
Villa Isadora consists of a large building with two units and an apartment on the top floor. Each of the two units comprises of two bedrooms (1 double bedroom, 1 bedroom with bunk beds), a bathroom with a shower, a kitchenette, a dining / sitting area and a terrace overlooking the sea.
On the top floor is an apartment with three bedrooms, two bathrooms, a kitchen / dining / sitting area and a terrace. It consists of one double bedroom, one bedroom with bunk beds, and one twin bedroom (the beds can be connected). One bathroom has a shower, while another one has a hydro massage bathtub.
The house by the pool comprises of a kitchen / dining / sitting area, and a bathroom.
Villa Isadora is a luxuriously furnished villa situated on a small hill in Primosten with a beautiful sea view of the Primosten coast.

Tastefully decorated rooms, fully equipped kitchen and a large terrace with an outdoor pool will make your holiday unforgettable.
Alternative COVID-19 policy. This villa is entitled to a full refund under our Covid-19 policy, 30 days prior to your holiday commencing. Should your local area, or the destination where your villa holiday is, go into a lockdown, 30 days prior to your arrival, you will be entitled to a credit voucher* or a deferral of your holiday** or a full refund.***Credit voucher to be used against any villa from our supplier's portfolio, subject to availability and subject to price differences.
GROUND FLOOR

BEDROOM

BEDROOM

BATHROOM

ANNEX

Kitchenette

Lounge

Satellite TV

Wi Fi

A/C

Comfortable Seating

Dining Facilities

DVD Player

Exterior Access

Bedroom

Bedroom

Bathroom

LOUNGE

Dining Facilities

Terrace

Comfortable Seating

DVD Player

Satellite TV

Wi Fi

A/C

KITCHEN

Fridge / Freezer

Hob

Microwave

Oven

A/C

Coffee Machine

FIRST FLOOR

BATHROOM

BEDROOM

BEDROOM

BEDROOM

BATHROOM

LOUNGE

Terrace

Dining Facilities

A/C

Comfortable Seating

DVD Player

Wi Fi

Satellite TV

KITCHEN

Oven

A/C

Coffee Machine

Dishwasher

Fridge / Freezer

Hob

SERVICES

EXTERIOR FEATURES