Maldives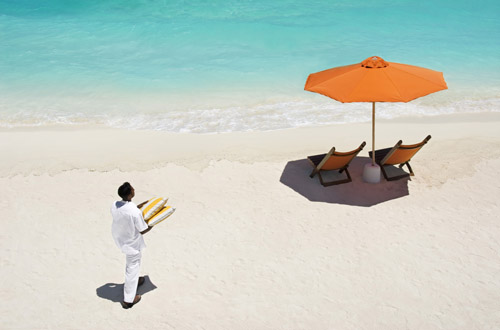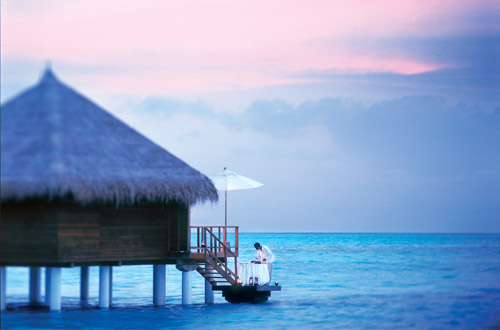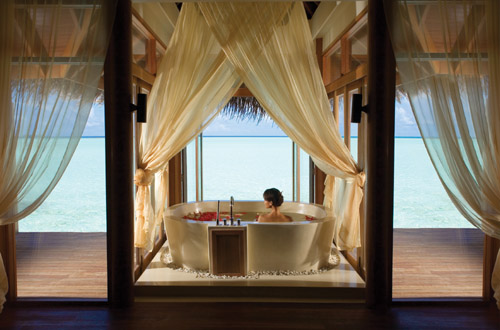 Introduction
There is nowhere on earth quite like the Maldives, 1190 tropical islands make up the 26 atolls that form the Maldives. They lie 450 miles south-west of Sri Lanka, occupying 90,000 square kilometres scattered amongst the incomparably beautiful, turquoise and aquamarine waters of the Indian Ocean. Only 1 per cent of the country consists of land - the other 99% is water! The Maldives are possibly the ultimate, \"get away from it all\", holiday destination. The islands, of which no more than 200 are inhabited, straddle the equator stretching some 500 miles north to south and just 81 miles from east to west. International hotel chains cater admirably to guests needs providing some of the highest standards of luxury accommodation available anywhere in the world. Devoutly Islamic, Maldivians are friendly, hospitable and peace loving people, extremely tolerant of western ways and values.
Places to Visit
Male - The tiny, crowded capital city of the Maldives is a fantastic place to visit for a day. Male is the seat of government and gateway to the Maldives complete with its own beach, historic sites, and a spectacular skyline of skyscrapers. It is located in the centre of the atoll chain. In Male it is recommended that women wear modest clothing wherever possible.

Boat cruise - A sunset boat cruise aboard a dhoni, the wooden boat that is the Maldives standard mode of transport, is a blissful way to end the day. You\'ll cruise around uninhabited islands, where you\'ll be served drinks and snacks while local musicians play their traditional bodu beru drums to attract dolphins.

Diving and snorkelling - To appreciate the exceptionally varied and plentiful underwater life go diving or snorkelling; some of the best sites in the world are found in the Maldives. All of the resorts have professional, fully-equipped dive schools offering a range of activities.

Hulhumale - From Mae take a ferry trip to the nearby man-made island of Hulhumale, a utopian town that looks set to become the new hub of the country in decades to come as sea levels rise - Hulhumale is 2m above sea level, which is mountainous by local standards.
Maldives Victory Wreck - For an unforgettable underwater experience, dive to the Maldives Victory Wreck (which sank in 1981), lying on the western side of Hulhule. This is a dive for experienced divers.
Getting to and Travelling around
Arriving in the Maldives is a unique experience. Male international airport is on an island all by itself. After collecting your luggage, a speedboat or seaplane whisks you off to your chosen resort in the Maldives.
Flights - British Airways and Virgin Atlantic both fly to the Maldives direct from London Gatwick. Emirates fly from London Heathrow, London Gatwick, Manchester, Birmingham, Glasgow and Newcastle via Dubai. Qatar Airways fly from London Heathrow, London Gatwick and Manchester via Doha.


Public transport air: Seaplane - Maldivian Air Taxis are seaplane operators offering transfers between Male Ibrahim Nasir International Airport and their various destinations in the Maldives.

Public transport water: Ferry - A 24-hour ferry service provides transfers from Male Ibrahim Nasir International Airport to Male city (journey time: approximately 10 minutes;) or to various resort islands in the area. Taxis are available where the ferry arrives in Male.
By water - Visitors generally remain on their resort island for the duration of their stay, although island-hopping trips by dhoni charters are widely available. High-speed boats usually meet arrivals at the airport, supplied by the resort they are booked with, and boats are available for hire at the ferry counter near the jetty area. The speedboats connect the airport with North and South Male Atolls.
Best Time and Weather
Climate - The Maldives straddle the equator, lie outside the cyclone belt and enjoy a year round tropical climate. Temperatures fluctuate between a minimum 23ºC and a maximum 33ºC. On any island in the Maldives there is always a cooling breeze. The south-western monsoon tends to bring more rain, normally in June and July. Rain can occur at any time of year and without warning.
Important Information
Language
Dhivehi is the official language of the Maldives. English is spoken widely especially in tourist areas.
Passports and Visas
UK visitors to the Maldives require a passport valid for more than six months from the date of arrival. Visas are issued on arrival.
Health
Vaccinations are recommended. Please consult your GP for details.
Currency
Maldivian Rufiyaa. Traveller\'s cheques and most foreign currencies can be exchanged through authorised dealers. The US dollar is the most widely used currency in tourism related business and it is advisable to carry a small amount.
Time Difference