Tuscany to Cinque Terre: Wines, Villages & Unforgettable Walks
Tuscany to Cinque Terre: Wines, Villages & Unforgettable Walks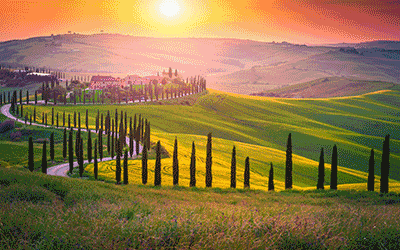 £1899
08 Oct 23
08 Oct 23
30 Sep 23

Deposit £650 per person
Please Note: Single Room Supplement £419 per person
Itinerary:
Sun 08 Oct 23 - Florence
Arrive in Florence at any time. Meet your CEO and fellow travelers in the evening at a welcome meeting. Your Welcome Moment: Welcome Meeting - Meet Your CEO and Group Your opportunity to meet your CEO and fellow travelers, and learn more about your tour. Opt to join the group for a local meal afterward. Don't forget to see the notice in the lobby (or ask reception) for the official time and place to meet up with the group. Optional Activities - Day 1 Ponte Vecchio VisitFlorence Walk across this medieval bridge and look over the Arno River to feel the romance of this city. Jewelers, art dealers, and souvenir shops run the length of the bridge, featured in many master paintings. Piazzale Michelangelo WalkFlorence Cross through the center of the city and over the Arno. Climb to the top of the hill and check out the vista over the river from Piazzale Michelangelo. It's worth every step! Medici Chapels Visit Florence Admire the opulence of the two Medici Chapels. The Sagrestia Nuova was designed by Michelangelo and built as a mausoleum for the powerful Medici family. Accommodation Below is an example of a hotel we may use in this city. For the actual hotel your specific departure will be using, please check your voucher.
Hotel Goldoni Florence (or similar)
Mon 09 Oct 23 - Florence to Cinque Terre
Start the day off with a walking tour of Florence seeing all of the famous sites like the Centro Storico, Giottos bell tower, the Palazzo Vecchio, and The Uffizi. It's onwards to Cinque Terre. On the way, the group will stop in Lucca for an orientation walk through this medieval town. Join your CEO tonight for an optional dinner at a local restaurant. Florence CEO Guided Walking TourFlorence Head out for a walk through the heart of Florence, passing magnificent structures that truly bring the Italian Renaissance to life. Take a new approach to sightsee by learning more about the artists behind the monuments than the monuments themselves. Private VehicleFlorence Lucca1h30m85km Settle in and scan the scenery from the convenience of a private vehicle. Lucca Guided Walking TourLucca2h Discover medieval Lucca on foot with a guided walking tour. Stroll atop the 17th-century city wall, still fully intact! Visit the 12th-century Cathedral of San Martino and the Duomo. Climb to the roof garden of the Guinigi Tower or see Puccinis birthplace. Private VehicleLucca La Spezia1h77km Settle in and scan the scenery from the convenience of a private vehicle.
Accommodation
Hotel Venezia (or similar)Hotel
Meals included: Breakfast
Tue 10 Oct 23 - Cinque Terre
Enjoy some breakfast before taking a short train to the village of Romaggiore for the start of today's hike. Walk along the coastal path of Cinque Terre, a World Heritage Site and National Park. Enjoy a free afternoon to continue exploring. You could sign up for a food-making class, book a boat trip, or hike any of the other coastal and inland paths that will take you all over one of the most gorgeous stretches of coastline in all of Italy. Spend the morning discovering the five towns within the UNESCO World Heritage Site of Cinque Terre, Corniglia, Manarola, Monterosso al Mare, Riomaggiore, and Vernazza. Should you opt out of the hike with the group and CEO, the Cinque Terre National Park pass will still be available for you to discover the five towns on your own. Cinque Terre Coastal Path HikeRiomaggiore Monterosso al Mare5h-6h Walk the Cinque Terre coastal path from Riomaggiore to Monterosso (approximately 5-6 hrs of hiking, stopping in the villages along the way), giving you the best taste of the villages and countryside, terraced hills, and vineyards sloping down to the sea. An unlimited train pass is included; opt to use this if you don't feel like hiking. National Park Pass and Unlimited Train TicketCinque Terre Use the included park fee and train ticket for this trip. Opt to follow your CEO along centuries-old footpaths and mule tracks leading through olive groves, vineyards, and orchards on an exhilarating hike, or hop on and- off the train, experiencing each town on your own.Free TimeCinque Terre Spend the day in your own paradise. Stroll the beaches, walk along the coastal paths, and find a delicious restaurant overlooking the water. Or if you're feeling more adventurous find a boat tour or go kayaking in the sea. No matter what the medieval fortresses and buildings covered with vines and vibrant colors will make this day memorable. Optional Activities - Day 3 Cinque Terre Boat TripCinque Terre 4h-5 h Take in the beauty of Cinque Terres's five colorful villages while cruising along the Ligurian Sea. Witness the steep hillsides and terrain covered in olive groves and grape vines. Cinque Terre Inland HikeRiomaggiore Venture onto one of the inland and much higher trails, which winds for much of the route through cool and shady woodland. The views are not constant, thanks to the trees, but when you come across a vantage point the panorama is truly breathtaking. Fewer tourists venture up here so the villages are unspoiled and retain a lovely sense of tranquility. Pesto Making ClassCinque Terre3h-4h70 Learn the art of cooking with this traditional Ligurian sauce.
Accommodation
Hotel Venezia (or similar)Hotel
Meals included: Breakfast
Wed 11 Oct 23 - Cinque Terre
A full free day to enjoy the marvels of Cinque Terre. Visit the town of Portovenere which includes a pesto-making demonstration and a light lunch. You could also spend some time shopping, wine tasting, cafe, hopping, and beach walking if you're craving more relaxing vibes. Kayaking, boat tours, and hiking are always available. Free TimeCinque TerreFull Day Spend the day walking, shopping, beach lounging or traveling to Portovenere, the "sixth" town in Cinque Terre. Optional Activities - Day 4 Visit PortovenerePortovenere Travel to Portovenere known as the "sixth" Cinque Terre town. A natural beauty overlooking the Gulf of La Spezia it's easy to fall in love. Get to know the area and enjoy a pesto-making demonstration with a light lunch before traveling back to La Spezia in the late afternoon. Cinque Terre Inland HikeRiomaggiore Venture onto one of the inland and much higher trails, which winds for much of the route through cool and shady woodland. The views are not constant, thanks to the trees, but when you come across a vantage point the panorama is truly breathtaking. Fewer tourists venture up here so the villages are unspoiled and retain a lovely sense of tranquility. Pesto Making ClassCinque Terre3h-4h70 Learn the art of cooking with this traditional Ligurian sauce. Cinque Terre Boat TripCinque Terre 4h-5 h Take in the beauty of Cinque Terres's five colorful villages while cruising along the Ligurian Sea. Witness the steep hillsides and terrain covered in olive groves and grape vines.
Accommodation
Hotel Venezia (or similar)Hotel
Meals included: Breakfast
Thu 12 Oct 23 - Cinque Terre to Chianti Region.
After breakfast, travel to the North Chianti region. En route, the group will stop in Pisa briefly to see the Leaning Tower of Pisa. After, continue driving through the stunning Tuscan area and enjoy an included dinner tonight with the group in San Donato Fronzano. Private VehicleLa Spezia Pisa1h30m80km Settle in and scan the scenery from the convenience of a private vehicle. Visit PisaPisa Wander the area and take photos to your heart's content. Opt to enter the Pisa Cathedral, or enjoy lunch at a nearby restaurant. Private VehiclePisa San Donato Fronzano1h45m 2h100km Settle in and scan the scenery from the convenience of a private vehicle.
Accommodation
Fattoria degli Usignoli (or similar)Hotel
Meals included: Breakfast | Dinner
Fri 13 Oct 23 - Chianti Region
Wake up in the beautiful Tuscan countryside. In the morning hike through the hillside villages near San Donato Fronzano to Castelo dei Bonsi. In the afternoon use your free time to join an optional bike tour before another included and delicious dinner with the group. Castelo dei Bonsi HikeSan Donato Fronzano Enjoy a hike through the Tuscan countryside with your CEO. Hike around 8km to Castelo dei Bonsi. The hike will take around 4 hours and offers beautiful views of green rolling hills along the way. Free TimeSan Donato FronzanoHalf Day Explore the area on your own during a free day. Enjoy the Tuscan hillside villages and find a cozy cafe to grab a bite to eat or opt for a bike tour around town.
Accommodation
Fattoria degli Usignoli (or similar)Hotel
Meals included: Breakfast | Dinner
Sat 14 Oct 23 - Chianti region to Florence.
Travel to Florence via train. The tour ends upon arrival at approximately 12pm. Please book any departing no earlier than 2 pm. TrainSan Donato Fronzano Florence45m37km Climb aboard, take a seat and enjoy the ride.
Meals included: Breakfast
Offer Includes
Return flights from London Gatwick
Airport taxes
Your Welcome Moment: Welcome Meeting, Meet Your CEO and Group Guided walking tour of Florence Trip to Cinque Terre National Park Castelo dei Bonsi hike
Free time in Florence, La Spezia, Pisa, and San Donato Fronzano
All transport between destinations and to/from included activities
4 Nights Accommodations in Hotels
2 Nights Stay in Agriturismo farm
Meals 6 breakfasts, 2 dinners - Allow USD215-280 for meals not included.
Transportation Private vehicle, train, walking.
Staff & experts CEO (Chief Experience Officer) throughout.
Meal Plans