Travelpack Nkambeni Guided Group Safari
Travelpack Nkambeni Guided Group Safari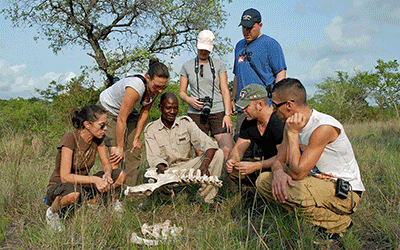 £2625
01 Jul 22
01 Jul 22
31 Jul 22

Highlights: Soweto Tour - Kruger Wilderness Safari - Panorama Tour - Matsamo Cultural Village - Sundowners.
Other departures: Manchester - £2415, Edinburgh - £2455, Glasgow - £2405, Newcastle - £2409, Belfast - £2415, Aberdeen - £2499
Guided From London Heathrow Airport.
This carefully designed Safari showcases the best of South Africa. Your Professionally trained and experienced Guide is available throughout the safari to answer any questions you may have.
In addition, the Guide will also identify the different flora, fauna and explain the history of the rich cultures of this beautiful region. Allowing you more time to focus on experiencing South Africa at its best.

Flight                                                             01-Jul-22 - 02-Jul-22
Silverbirch at Birchwood Hotel                 02-Jul-22 - 03-Jul-22
Nkambeni Safari Camp                              03-Jul-22 - 08-Jul-22
Itinerary:
Day 1: Arrival at Johannesburg Airport.
On arrival at the airport, you'll be met by a representative in the Arrivals Hall who will be holding a board with your name on it.
Arrival Meet and Greet at O.R Tambo International Airport (Silver Welcome
Transfer to Silverbirch at Birchwood.
Half-Day Soweto Tour (Afternoon) including Regina Mundi RCC, Hector Pieterson Museum.
Welcome Dinner at the Hotel.
Overnight: Silverbirch at Birchwood (Standard Room) or Similar

Afternoon Soweto Tour - Half Day
You know the name.
It's a legend. SOWETO, an acronym for South Western Township, is home to over 2 million people, who, despite living in crowded and chaotic conditions, have a tangible sense of community, one which ironically, the ordered, walled, elitist northern suburbs lack.
Inside Soweto, guests visit the Kliptown Open Air Museum where delegates met in 1955 to adopt the Freedom Charter, now the cornerstone of the Bill of Rights and the South African Constitution.
This journey continues to Regina Mundi Church, the site of many secret underground meetings of the then-banned political parties.
The next stop is the Hector Pieterson Museum, and discover the cause of the tragic riots which led to his death; guests will pass Mandela House, and give you time to visit this fascinating little museum.
Soweto is unlike a suburb you've ever seen or been to, yet the history of struggle encapsulated here is a cornerstone of the South African Story.
Your experience highlights:
Regina Mundi Church
Hector Pieterson Museum
Mandela House (own account)
Included Entrance and Water,
Overnight: Silverbirch at Birchwood (Standard Room) or Similar
Meals: Welcome Dinner.
Day 2: Nkambeni Safari Camp - x 6 night(s).
Transfer from Johannesburg hotel to Nkambeni Safari Camp.
Nestled in the heart of one of the most famous wildlife conservation areas in the world, Nkambeni Safari Camp welcomes you to the Big Five country.
Here, in the world-renowned Kruger National Park, thrilling up-close and personal wildlife experiences await you in an exclusive-use 11500-hectare private concession.
Lunch en route (own account)
Afternoon Wilderness Drive.
A two-hour late afternoon safari which includes pre-departure tea, fruit juice, and cakes (traditional High Tea)
As well as sun-downer drinks and snacks which are served in the bush while on the drive.
Overnight: Nkambeni Safari Camp - Suite or Similar.
Meal Basis: Dinner, Bed & Breakfast

Day 3: Full-day Kruger Wilderness Park Game Drive (Included conservation fees).
Early morning starts to embark on a safari to the famous Kruger National Park.
Great chances to see the big five (elephants, leopard, lion, buffalo, and rhino) and many more on this amazing safari.
Includes Breakfast Packs Included Only.
Lunch for your own account. (Leg stretch at a restaurant)
Overnight: Nkambeni Safari Camp - Suite or Similar
Meal Basis: Dinner, Bed & Breakfast

Day 4: Full-day Panorama Tour.
Early Morning Departure.
The Panorama Route is one of the most scenic areas in South Africa.
With its stunning waterfalls and peaks.
It refers to the long steep slope in the Mpumalanga Province where the Drakensberg mountains separate the Highveld to the west from the Lowveld to the east.
This beautiful region is a popular destination and is well known for its spectacular views and waterfalls.
The Tour offers the opportunity to stop at scenic sights such as God's Window, Bourke's Luck Potholes, the Three Rondavels, and the Blyde River Canyon.
Please Note:
It is important to bring comfortable walking Shoes, sun-block, hat, binoculars, camera, light clothes with light rain protection in case needed.

Your experience highlights:
Blyde River Canyon - Tufa falls - Three Rondavels - Lisbon Falls - God's Window
Overnight: Nkambeni Safari Camp - Suite or Similar.
Meal Basis: Dinner, Bed & Breakfast
Day 5: Morning Wilderness Game Drive.
A two-hour early morning safari which includes coffee and rusks before departure.
This safari departs at 05.30 in the morning in the summer months and at 06h00 in the winter months.
Guests return in time for a hearty breakfast back at Camp.
All drives commence with a safety briefing and introduction to the reserve
Come back to cam for a pool relaxation before your sundowners, watching the sun kiss the horizon.
Afternoon sundowners with snacks (Gin stop)
Overnight: Nkambeni Safari Camp - Suite or Similar.
Meal Basis: Dinner, Bed & Breakfast
Day 6: Matsamo Cultural Village
On a visit to Matsamo Cultural Village, you will be treated to age-old folk songs, rhythmic dance performances,
including the famous rain dance, music with authentic African instruments, as well as traditional Swazi cuisine.
You can also wander on a tour through the village with its many huts and spaces, interacting with the villagers as they go about their daily activities
Cultivating their crops, preparing traditional food, and fashioning beautiful craftworks.
Matsamo has a well-stocked curio shop with local crafts and a spacious restaurant with a stunning panoramic view.
Includes Lunch.
Overnight: Nkambeni Safari Camp - Suite or Similar
Meal Basis: Dinner, Bed & Breakfast
Day 7: Kruger National Park - Half Day Morning
(Includes packed Breakfast)
An early morning safari includes coffee and rusks before departure.
All drives commence with a safety briefing and introduction to the reserve
Lunch at the Lodge.
Pool Relaxation to take in all the experiences while sipping a glass of the desired drink.
Safari Guide giving us a Q & A session for any knowledge that you may require on South Africa updates. (No Politics)
Enjoy your last evening Farewell Braai with the Group.
Overnight: Nkambeni Safari Camp - Suite or Similar.
Meal Basis: Dinner, Bed & Breakfast
Day 8: Departure.
Breakfast at the Lodge.
Taking our photos and memories to Johannesburg Airport for our onward journey.
Lunch en-route (Own account)
Departure - Transfer to O.R. Tambo International Airport
EXCLUDES 
Drinks
Lunches as per itinerary
Items of personal nature.
Tips £60 (to be collected at the Airport
Offer Includes
Return flights from London Heathrow
Airport taxes
8 nights accommodation as per Itinerary
All transfers
Meals: Breakfast (8) Lunches (4) Dinners (8)
Game Drives (4) with one full day Kuger park
Full-Day Panorama tour
Matsamo cultural village tour
Meal Plans