The Traditional Ayurveda Panchakarma - Atmantan Wellness - Master Cleanse
The Traditional Ayurveda Panchakarma - Atmantan Wellness - Master Cleanse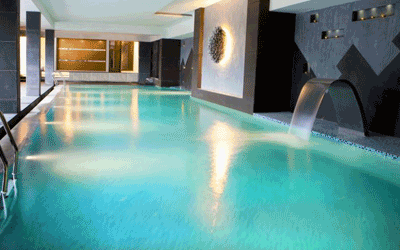 £2769
01 Sep 22
30 Sep 22
15 Aug 22

Hotels featured or similar: Mulshi, Pune - Atmanthan Wellness Resort.
Deposit - £250pp
7 nights Ayurveda Panchakarma retreat includes:
- 7 Night's accommodation (Asoka & Arjuna)
- 7 Wellness/Spa cuisine (Starting with Lunch on the day that you arrive)
- 7 Daily Inclusions (Choose from an Aromatherapy Massage/ 'Arm & a Leg' Recovery/ Destress Head & Spine Massage/ Foot - Reflexology/ Invigorating Massage/ Vedic Spice Massage)
- 1 Ayurvedic Medical Consultation
- 3 Prescribed Ayurvedic Treatments
- 1 Padabhyanga
- 2 Matra Vasti
- 1 Personal Yoga
- 1 Shirodhara
- 1 Udwartanam
All the Ayurveda Panchakarma Retreats Include:
- Individual health & wellness consultation
- Body composition analysis
- Postural assessment
- Yogic kriyas (including Neti, Dhouti, Gargling, Laghu Shankha Prakshalan, Tratak & Eye cleansing as per Wellness Consultant's prescription)
- Daily fitness and leisure activities (such as Aqua aerobics, Pilates, Stretch, Yoga, Spinning, Pranayama breathing, Dance, - Laughter therapy, Meditation, Cooking and other Group classes)
- Unlimited use of Water Therapy Suites (Steam, Infra-Red Sauna), indoor temperature-controlled pool
- Wellness departure consultation

* Transfer from Mumbai Airport to Amanta to Mumbai Airport by air-conditioned Innova
Atmantan, a luxury wellness resort at Mulshi Lake in Pune is an integrated wellness solution to address specific life enhancement goals.
This award-winning wellness resort is truly the holistic amalgamation of the Atma (soul), mana (mind), and tann (body). With integrated and customized wellness programs, Atmantan offers its guests result-oriented wellness experiences.
Nestled on a unique crystal hill, (that lends the land healing frequencies), Atmantan spans 42 acres of lush green valley, & has its abode in the Majestic Sahyadris, overlooking the pristine Mulshi Lake.
Individuals come here for integrated wellness retreats and programs, for the purposes of rejuvenation, relaxation, Detox, fitness and even to indulge in a pampering spa holiday.
While using the freshest ingredients & seasonal produce from our organic farms, Atmantan offers guests spa cuisine, that is exquisitely customized to complement their dietary requirements and the individual's retreat goals. Guests are served here with warm hospitality that is synonym with India.
Atmantan is easily accessible by road and air, due to its strategic location in Mulshi, (a hill station near Pune), one can reach within a 3 hours drive from Mumbai.
Honoring India's ancient Vedic practice of healing, this traditional Ayurveda Panchakarma retreat at Atmantan is a journey of discovery, cleansing, and awakening of your healing energies and senses.
The retreat commences with an initial consultation under the care of a highly-skilled Ayurvedic doctor. After an in-depth consultation, your constitutional type or Dosha is diagnosed, and a personalized daily treatment schedule is formulated for you. Even the nutrition during your stay is prescribed from our exclusive Ayurvedic Spa Cuisine and will be Dosha specific to enhance your remedial inception. Hence, the customized cuisine and the Ayurvedic treatments together deepen the effects of this healing tradition.
At Atmantan, the treatment oils are authentically prepared and follow the traditional method of use and prescription to an exact precision so as to extract the most potent therapeutic results for you. Therapies would include the varied forms of Shirodhara, Kativasti, Januvasti, Choorna swedana as well as Yoga, herb, and steam baths to complement the purification processes of the body. These therapies would be individually prescribed, monitored, and changed daily depending on your receptiveness and tolerance.
Itinerary:
1st Oct'22 Sat London Heathrow to Mumbai by flight.
2nd Oct'22 Sun Mumbai to Mulsi by surface (Approx. 4 Hrs)
Upon arrival at Mumbai airport welcome, meet and assist and drive to Mulsi. Upon arrival at Mulsi, check-in at Hotel.
Rest of the day at leisure & Overnight stay at Hotel
2nd to 09th Oct'22 Under Ayurveda Panchakarma
9th Oct'22 Sun Mumbai to London Heathrow by flight.
Transfer from Hotel to Mumbai airport in time to board flight for London Heathrow.
The quote does not include
* Visa Fees & Travel Insurance
* Any vehicle on leisure days
* Expenses of personal nature such as soft drinks, liquor, laundry, tips, telephone calls, porterage, visa fees, camera fees, etc
Anything not mentioned in the above inclusion
* Atmantan is customarily a tobacco-free resort. All guests are requested not to smoke in their rooms, gardens/balconies, and public areas. There is however a separate area designated for the guests who would still like to smoke. Smoking in the room will result in a cleaning and deodorizing charge of Rs 10,000-00
Offer Includes
Return flights from London Heathrow
Airport taxes
9 nights accommodation as per Itinerary
Wellness consultation, Body Composition, Physical Alignment Analysis, Daily Massage
All Transfer by air conditioned car
Meal Plans