The Golden Triangle and the Festival of Lights
The Golden Triangle and the Festival of Lights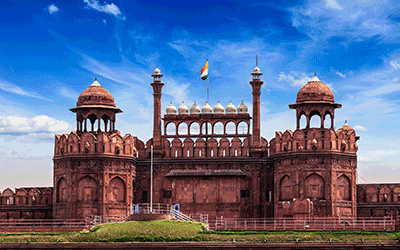 £2229
11 Nov 20
11 Nov 20
31 Aug 20

Highlights: Delhi - Jaipur - Agra
Hotels:
Delhi - Lalit
Jaipur - Sarover Premier OR Four Point Sheraton
Agra - Radisson Hotel
Delhi - The Pride Aerocity
Diwali (The Festival of Lights) is India's biggest festivals, and during the festival, people light up their houses and shops with Diyas, they offer Puja (prayer service) to the Lord Ganesha, in the hope for welfare and prosperity, and the Goddess Lakshmi for wealth and wisdom. It celebrates the return of Lord Rama from his 14 years of exile and his victory over the Demon Ravana. India's Golden Triangle of Delhi, Agra and Jaipur, has become a must-do on the international tourist map. From the amalgamation of old and new in Delhi, with its vibrant business center and heritage sights; to the magnificence of Jaipur (The Pink City) with its imposing Fort and grand palaces; and the aesthetically pleasing Taj Mahal in Agra which remains one of the wonders of the world; this tour represents India in microcosm. 
Tour highlights:
• Cycle rickshaw ride in Delhi
• Visit Akshardham Temple
• Enjoy Diwali Festivities with a local family
• Witness Govardhan Puja in Jaipur
• Street Food Walking Tour
• Sunrise visit to the Taj Mahal
Itinerary:
Day 1: London Heathrow to Delhi 
Depart London Heathrow on a British Airways flight to Delhi.
Day 2: Delhi
Arrive Delhi at approximately . Transfer by air-conditioned vehicle to our hotel. 
This afternoon we will enjoy an experience on the busy Delhi metro from Rajiv Chowk to Chandni Chowk where we will have the opportunity to taste delicious dishes prepared by well established and reputable street vendors. There will be something for every taste, vegetarian and non-vegetarian, on a tour which will last between 3 and 4 hours and take in about 4-5 different food stalls. Overnight stay at Hotel.
Day 3: Delhi
After breakfast, we will set off on a city tour of Old Delhi and our first stop will be at the Raj Ghat, which is the memorial to Mahatma Gandhi, located on the banks of the river Yamuna, We will continue into Old Delhi, driving past the Red Fort, an impressive 17th-century monument which is surrounded by 100 ft high walls, and home to numerous palaces, monuments, and gardens. We will stop and board our 'cycle rickshaw' for a unique experience from the Red Fort, through "Chandni Chowk" or Silver Street, experiencing the sights and sounds of this very busy avenue-heading west from the Fort. Close to the Red Fort is the Jama Masjid (Friday Mosque) which is a stunning complex, created from red sandstone and white marble in 1656, and which is one of India's largest mosques and can accommodate up to 20,000 people for prayer.
After lunch (not included) we will enjoy a leisurely visit to Akshardham Temple with its impressive 141ft high monument to Bhagwan Swaminarayan. Designed according to ancient Vedic texts known as the Sthapatya-Shastra, it features a blend of architectural styles from across India. The building is constructed entirely from Rajasthani pink sandstone and Italian Carrara marble and features no steel or concrete. Situated on the banks of the Yamuna River and with its splendidly intricate carvings of flora, fauna, dancers, musicians, and deities covering its walls, the Temple is an architectural work of art. Overnight stay at Hotel.
Day 4: Delhi
After breakfast, we will set off to explore the highlights of New Delhi stopping at  Humayun's Tomb, which was commissioned by the first wife of Mughal Emperor Humanyun in the 16th Century after his death. We will continue on to a true landmark of Delhi, the Qutub Minar, a 72.5-meter high minaret which is part of the Qutub complex and was commissioned by Qutub-ud-Din Aibak in 1193 to celebrate Muslim dominance in Delhi. We will drive past the Rashtrapati Bhawan, formerly the Viceroy's residence and now the official residence of the President of India, before a brief stop at the India Gate, an imposing arch which was built to commemorate the 70,000 Indian soldiers who died in WW1 and the British and Indian soldiers killed in the Afghan War of 1919 (all of which are engraved on the arch and foundations).
After the tour, we will visit a local market where we will have the opportunity to shop for traditional Indian clothes with the option to experience the Indian tradition of a Mehendi hand tattoo (using Henna) on your hands (Extra Cost). After a short visit to a nearby temple, we will join a local family for Laxmi pooja (prayers) followed by a festive dinner of traditional Indian cuisine  After dinner, we will enjoy spectacular firework displays around the city. Return to hotel for overnight.
Day 5: Delhi to Jaipur by Shatabadi Express
We will take an early morning transfer to New Delhi railway station in time to board a train for Jaipur departing , due for arrival . Founded in 1727 by Maharaja Sawai Jai Singh - II, the ruler of Amber. Jaipur is commonly known as the 'Pink City' as much of the old city was painted pink to celebrate the visit of the Prince of Wales in 1876. Upon arrival at Jaipur railway station, we will transfer to our  hotel
This afternoon we will join a local family for Goverdhan pooja, a celebration prayer involving worshipping the symbolic Govardhan Hill followed by a vegetarian lunch. Overnight stay at Hotel.
Day 6: Jaipur
This morning we will depart on an excursion to the Amber City Fort situated 11km north of the city, and set amidst the Aravalli hills at an elevation of 111 meters by Jeep. After lunch (not included) we return to Jaipur and enjoy a visit to The Maharaja's City Palace, which exhibits a delightful blend of Mughal and traditional Rajasthani architecture. Other sights we will visit include:
- Jantar Mantar, the largest and best-preserved of the five observatories built by Jai Singh II in different parts of the country and featuring the world's largest stone sundial;
- Hawa Mahal, also known as the "Palace of Winds" is a must-see landmark in Jaipur, with its spectacular pink sand-stone architecture and 953 windows on its outside wall set amongst incredibly intricate carvings.
- Johari Bazaar, the main bazaar, located in the old city and an excellent place to source jewelry and saris.
Overnight stay at Hotel.
Day 7: Jaipur to Agra (Approx. 265 km, 7 hrs)
After breakfast we will continue our tour with a scenic drive to Agra, a heritage city located on the banks of the Yamuna River, founded by Sultan Sikandar Lodi in the year 1506, which was the capital of the Mughal emperors from 1526 to 1658. Its Mughal-era architecture is a major attraction for tourists with the most notable examples being the Taj Mahal, Agra Fort and Fatehpur Sikri, all three of which are UNESCO World Heritage Sites. 
En-route we will visit Fatehpur Sikri, which is a beautiful, deserted medieval city, built by Mughal Emperor Akbar the Great in the 16th century to serve as the capital of his vast empire. It was abandoned after his death, probably because of poor access to water, and is perfectly preserved as a ghost city built at the height of the empire's splendor. Upon arrival at Agra, check-in at Hotel. Overnight stay at Hotel.
Day 8: Agra
There is an early start this morning as we visit the world-famous Taj Mahal as the sunrise offers the perfect light to view (and photograph) this stunning monument to love. Built by Shah Jahan between 1632 and 1653 as the final resting place of his favorite wife Arjumand Bann Begum (also called Mumtaz Mahal) who died in 1631 shortly after giving birth to their fourteenth child. We will return to our hotel for breakfast before setting off on a tour of the city. Our first stop will be the imposing Agra Fort, which was the main residence of the emperors of the Moghal Dynasty until 1638 when the capital returned to Delhi. Covering an area of over 90 acres, the Fort contains many historical monuments, palaces and gardens and part of the Fort is still home to the Indian armed forces. We will continue our tour, visiting Itmad-Ud-Daulah (The Pillar of the State), also known as 'Baby Taj' or 'Jewel Box', which was built in honor of Mizra Ghiyas Beg by his daughter Nur Jahan. The first Mughal era building to be built entirely out of marble, the mausoleum, delicately conceived and designed, is a beautiful precursor to the Taj Mahal.  This evening we will enjoy a sunset view of the Taj Mahal from the Mehtab Bagh, located on the opposite banks of the river, the gardens are perfectly aligned with the Taj Mahal and offer a stunning photo-opportunity. 
Overnight stay at Hotel.
Day 9: Agra to Delhi (Approx. 210 Kms,4 Hrs)
After breakfast, we will check out from our hotel and drive to Delhi. Upon arrival at Delhi, check-in at our hotel. Rest of the day at leisure and Overnight stay at Hotel.
Day 10: Departure
After breakfast, we will transfer to Delhi Airport for our British Airway flight , and arriving at London Heathrow.
Offer Includes
Flights from London Heathrow with British Airways
Airport taxes
8 nights accommodation as per Itinerary
Meal Plan: Room & Breakfast throughout the Tour
Meet & Assistants at Airports & Hotels By Our Representative
All transfers, Sightseeing & Excursion as mentioned in the Itinerary by Air Conditioned Car
Services of Local English Speaking guide as per the Itinerary during city tour
Entrance fees to the monuments
Cycle Rickshaw Ride at Old Delhi
Jeep joy ride at Amber Fort, Jaipur
Train Fare for the Sector Delhi or Jaipur by Air Conditioned Chair Car
Meal Plans