Thailand - The Ultimate Family Easter Offer
Thailand - The Ultimate Family Easter Offer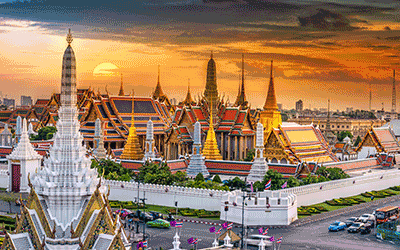 £3285
26 Mar 24
26 Mar 24
31 Dec 23

Highlights: Bangkok - Kanchanaburi - River Kwai - Bangkok - Koh Kood Beach

Deposit: £400pp/ Price Based on 2 adults and 2 children sharing
Other Departures: Manchester - £3,255, Edinburgh - £3,315
Itinerary:
Wed 27 Mar 24 - Arrival Day
Upon arrival at Suvarnabhumi Airport, (Bangkok International Airport), your driver will be waiting with a signboard with your name on it to transfer you to your hotel in Bangkok. The rest of the day is free to chill at your own leisure. Head out and explore the hustle and bustle of Bangkok or try some Thai cuisine. Accommodation
The Grand Sathorn, Deluxe Room (or similar)
Thu 28 Mar 24 - Discover Bangkok by River
Meet up with your guide who will accompany you to the nearby pier to board our long-tail boat. From here you will move down the Chao Phraya the main river in Bangkok, with amazing backdrop views of the Bangkok skyline, before making a turn to enter the klongs.
You will pass a range of local wooden stilt houses with clothes hanging to be dried in the sun, a local 7 eleven, klong style. Feel the atmosphere of having entered the klongs. You will hear Thai music being played from the houses, you will see birds looking at the passing boats, if you are lucky, you will spot one of the sunbathing lizards.
The first stop is at the temple Wat Khun Chan where you will be inspired by the postmodern temples on one side of the klongs and the feeling of old days on the other with the beauty of the river crossing through the landscape.
From there it is onwards to the Artist Village, with old wooden walkways with artists, an old barber shop, an old grocery, vintage posters, colours of freedom, and a small stupa licking the sunlight. Feel the quietness surrounding this place. A stop will be made where you can feed the holy Catfish. It is a remarkable sight when hundreds of fish come to the surface seemingly out of nowhere!
Upon leaving the klongs you will see several houses on stilts and how locals live in these small houses on the river. Then we leave the quietness and get back to the noisy, Chao Phraya River and the majestic grand palace. Your trip will end at Pier 9 on the Chao Phraya River, from where you can visit the nearby temples on your own, continue to the shopping malls or return to your accommodation.
Accommodation
The Grand Sathorn, Deluxe Room (or similar)
Fri 29 Mar 24 - Free Day in Bangkok
Free Day in Bangkok
This day is yours to enjoy, whether that exploring the bustling streets and markets of the city, or simply relaxing by the pool.
The hotel staff will be happy to recommend the best places to go to explore and with atmospheric temples, incredible street food and friendly locals, there are few cities with more to discover.
Accommodation
The Grand Sathorn, Deluxe Room (or similar)
Meals
Breakfast
Sat 30 Mar 24 - Bangkok to Kanchanaburi
Bangkok to Kanchanaburi
Today your trip begins between 6:00 and 6:30. This will be a shared transfer, and you will pass by other pick-up locations before heading out towards Kanchanaburi. 130 kilometres west of Bangkok, not far from the Burmese border, you will see the Bridge over the River Kwai made (in)famous by the 1957 Academy Award-winning film of the same name. Grim history aside, this area of Thailand is rich in culture and natural beauty. The border area with Myanmar is known for its mountainous charm that is unmatched elsewhere in the country.
Upon reaching the city of Kanchanaburi, you will get to see some of the highlights up close. Visit the ThailandBurma Railway Centre, an interactive museum, information and research facility that presents the history of the ThailandBurma Railway. The centre offers visitors an educational and moving experience.
You will walk on the famous bridge across the River Kwai and see the Allied War Cemetery.
Around noon, you will arrive at Hintok River Camp, located near Sai Yok National Park. Situated on the Kwai Noi river, you will experience the nature and tranquility that national parks in Thailand have to offer. After check-in, lunch will be served at the camp. In the early afternoon, you will go visit the Hellfire
Pass Memorial Museum which is dedicated to Allied Prisoners of War and the Asian labourers who lost their lives at Hellfire Pass and elsewhere in the Asia- Pacific region during World War II. You will trek along the Hellfire Pass walking trails and return to Hintok River Camp.
The rest of the day is at leisure. You can ride around on a mountain bike (free of charge) to visit a village or farm near the camp or swim in the amazing natural pools. Finish your day with dinner at around 19:00 at the camp restaurant.
Accommodation
Hintok River Camp in a Superior Tent
Meals
Breakfast, Lunch, Dinner
Sun 31 Mar 24 - Elephants and Erawan National Park
Elephants and Erawan National Park
After breakfast, we will visit the Erawan Waterfall, the major attraction of the park is the 7-tiered Erawan Falls with emerald green ponds. There are also several impressive and long caves within the park, some of them deeper inside the park, a few of them along the roads around the park. The Park and the falls are named after the three-headed white elephant of Hindu mythology. The top tier of the falls is said to resemble an elephant head. Enjoy swimming in the fresh natural crystal-clear water. Afterwards, we continue to elephant rescue camp where you will learn more about these majestic animals.
Learn how to prepare their food, and then you will join the elephants in a mud bath. Afterwards, walk with the elephants to the river where you can wash, swim and play with them. Do not forget your swimsuit! Walk back to the camp accompanied by the elephants. Now it is time for them to roam free and feed them snacks of delicious fruits and vegetables.
After a truly memorable afternoon with the elephants, you will be transferred back to Hintok River Camp.
Accommodation
Hintok River Camp in a Superior Tent
Meals
Breakfast, Lunch, Dinner
Mon 01 Apr 24 - Down the River Kwai
Today breakfast is served at 7:00. Today is a moving day! You will leave the Hintok River Camp behind and move to your next accommodation. At 8:00 you will board a long-tail boat which will take you on the river that runs past Hintok River Camp. You will arrive at the River Kwai Jungle Rafts at around 9:00 and you can check-in to your new accommodation. Relax or visit the local Mon village which is just a short walk from your raft. The Mon are a minority group in Thailand and are a mix of Thai and Burmese.
Lunch will be served at around noon. After lunch, you have time to explore the resort. As it is a raft and is located on the river, you can go for a dip in the refreshing water, sunbathe, book a massage (at extra cost), or simply enjoy the peace and tranquility. The resort offers different activities such as canoeing on the river, bird watching, a jungle walk, and more which you can arrange as you wish (at extra cost) directly with the resort.
In the evening you will be served dinner please note that instead of using electricity, you will use a kerosene lamp for light. The light from the lamps will create a natural romantic ambiance.
Accommodation
River Kwai Jungle Rafts in a Raft Twin or Double Room
MealsBreakfast, Lunch, Dinner
Tue 02 Apr 24 - Caves and Waterfalls
Caves and Waterfalls
Wake up to a day that includes a waterfall and a cave both located inside the National Park. But before leaving for your excursion, you will enjoy a hearty breakfast. At 8:00, you will be picked up by a long-tail boat, which will take you upstream to Sai Yok Yai waterfall.
The waterfall was made famous in 1877 where King Rama V visited the waterfall, showered in the falls and classic poetry was written to memorialize the visit.
The front of Sai Yok Yai Waterfall faces the Kwai Noi River, and the water flows from a cliff almost 10 meters above the river. The best spot to capture this beautiful waterfall is from the Sai Yok Bridge, but for those who would like to enjoy the waterfall up close you can take a boat to the fall (at your own expense). You will return to River Kwai Jungle Raft for lunch at around noon.
After lunch, you will depart on a long-tail boat to explore the Lava Cave. This is one of the most impressive caves in the National Park. It is 500 meters deep with a small entrance and with huge chambers containing large stalactites and stalagmites. In the mid-afternoon, you will return to the River Kwai Jungle Rafts for some free time.
At 19:00, dinner will be served, and the rest of the evening is free at leisure.
Accommodation
River Kwai Jungle Rafts in a Raft Twin or Double Room
Meals
Breakfast, Lunch, Dinner
Wed 03 Apr 24 - Last Day on the River Kwai
Your last day in the National Park starts with breakfast at 7:00. After breakfast, there is a chance for one last swim in the river before you check-out at 11:00. On the way back to Bangkok, youll make a stop at a local restaurant for lunch. You will then head to the Death Railway train station where you will board the train that was intended for use during the second world war an important, although sad, part of Thailands history. The short train ride (about 30 minutes) takes you through magnificent scenery, passing over the original wooden viaduct on a railway built on the side of a mountain.
After the train ride, you will continue towards Bangkok and arrive at around 19:00.
Accommodation
The Grand Sathorn, Deluxe Room (or similar)
Meals
Breakfast, Lunch
Thu 04 Apr 24 - Transfer to your beach paradise
Transfer to your beach paradise
After an early breakfast and checkout, you will set off for Koh Kood, your journey will begin by private van and you will also take a public ferry to arrive on the island 325kms away from Bangkok. Once you arrive, youll have your last few days free days to totally relax at the end of an incredible Thailand holiday, so that youll feel refreshed and recharged.
Accommodation
Overnight at Koh Kood Beach Resort, Bali House (or similar)
Meals
Breakfast
Fri 05 Apr 24 - Sat 06 Apr 24 - Pure Relaxation on Koh Kood
Pure Relaxation on Koh Kood
For the next couple of days, the only thing you have to focus on is how to get the most relaxation and enjoyment out of every hour youre on the tropical island paradise of Koh Kood. And with warm, crystal clear seas, stunning white sand beaches and world-class cuisine to be discovered, wed say that this task is mad pretty easy.
Accommodation
Overnight at Koh Kood Beach Resort, Bali House (or similar)
Meals
Breakfast
Sun 07 Apr 24 - Kuala Lumpur
You've got the whole day for exploring. Head out of town to visit the famous Batu Caves or the Orang Alsi Museum. Later tonight, head to some rooftop bars for drinks and dancing, or stop by the night market and find some flavours you never knew existed.
Built in 1928 as a fresh market for locals, and revamped in the 1980s as an outlet for all Malaysian handicrafts, the night market is a local institution. Make sure you don't miss it.
Sun 07 Apr 24 - Departure Day
Your last day in this paradise. After checkout, join-in ferry and private van transfer to BKK Airport.
We hope that your activity holiday in Thailand has been truly memorable and that you leave feeling youve got to know a Thailand thats not in the guidebooks, the real authentic Thailand that many tourists dont get to experience.
One thing is for sure, by the time you land at home, youll already be itching for your next trip back to this vibrant, colourful part of the world.
Meals
Breakfast
Offer Includes
Return flights from London Heathrow
Airport taxes
4 nights Accommodation in Bangkok Bed & Breakfast
2 nights Hintuk River Camp Full Board
2 nights River Kwai Jungle Rafts Full Board
3 nights Koh Kood Beach Resort Bed & Breakfast
Private Airport transfers and all transport between locations on the tou
English speaking guides on all activities
All entrance tickets & permits
Longtail boat cruise in Bangkok through the klongs
Visit the Thailand-Burma Railway Centre
Walk the Bridge over the River Kwai
Trek along the Hellfire Pass walking trails
Long tail boat cruise to Sai Yok Yai waterfall and the Lava Cave
Ride the death railway in Kanchanaburi
Visit Erawan National Park incl 7-tiered Erawan Falls
Feed elephants & join them for a swim at the Elephant Rescue Centre
Meal Plans