Spooky Prague for Halloween
Spooky Prague for Halloween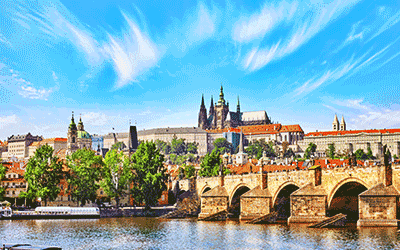 £679
28 Oct 23
28 Oct 23
30 Sep 23
Highlights: Prague Oldtown - Kokořín - Kutná Hora - Prague Castle
Hotels featured:
✅Hotel St George 4*
Hotel St George
The newly renovated 4-star St George Hotel is located in the center of Prague, just a 5-minute walk from Wenceslas Square. The hotel has an excellent location and connection to the city center from the IP Pavlova station, only 1 stop from the Muzeum station.
All hotel rooms (57 in total) offer a 4-star standard in stylish rooms matching the historical character of the building. Free Wi-Fi connection, satellite TV, minibar, and private bathroom including hair dryer and make-up mirror.
Itinerary:
Sat 28 October 2023: Prague
Flight from London Heathrow, UK to Prague Ruzyne Airport
Private Transfer Airport to Hotel
Stay at Hotel St George for 4 Nights
Sat 28 October 2023: Prague Oldtown, Medieval Underground and Dungeon
The city of Prague may be famous for its beautiful architecture but the real history of the city lies below. On this tour, you'll not only learn about the medieval history of the town but also see and explore a different part of the city - one that exists under the cobblestoned streets of Old Town. 5.30 PM
What's Included
Inclusions:
Entry fees
Entry/Admission - Prague Underground Tours
Sun 29 Oct 2023: Haunted castle Houska and Kokorin castle tour 
While Kokon is a majestic medieval castle built in 1320 that attracts visitors because of its preserved construction, Houska is the most mysterious castle in our country.
From Kokon we will move to the main attraction of this tour - Houska Castle. You might hear stories about a gate to hell or another world, that is there. You might hear stories about strange creatures, half men and half animals, that supposedly lived there.
You might hear stories about a man - a prisoner, who was let to explore this gate and what happened to him. You might hear stories about the leader of Swedish marauders, Oronto, who was killed here in the 1640s by a silver bullet. You might hear stories about Nazis who tried to use the dark powers of this castle during the War. We will go inside this castle and I will offer you my explanation of these legends.
8:30 AM
What's Included
Inclusions:
Entry fees to both castles
Air-conditioned vehicle
Hotel pick up and drop off
Personal guide
Entry/Admission - Hrad Kokorin
Entry/Admission - Hrad Houska
Exclusions:
Lunch - There are plenty of options to buy food and drinks along
the way
Departure & Return
Departure Point:
Traveler pickup is offered
Details of your pick-up will be sent to you by email shortly before the tour.
Duration:
7 hours
Mon 30 Oct 2023: Half-Day Trip to Kutna Hora and Bone Church
Visit one of the most well-known burial grounds in the world, the magical bone church in Sedlec, the ossuary of Kutn Hora. During this 7-hour guided trip, you'll also see the Gothic St. Barbara's Cathedral in Kutna Hora, the second richest city in the Kingdom of Bohemia.
What's Included
Inclusions:
Professional guide
Transport by air-conditioned minivan
Entrance tickets
Entry/Admission - The Cemetery Church of All Saints with the
Ossuary
Entry/Admission - St Barbara's Cathedral
Exclusions:
Food and drinks
Hotel drop-off
Hotel pick-up
Departure & Return
Departure Point:
Na Pkop 957/23, 110 00 Praha 1-Star Msto, Czechia
Duration:
7 hours
Return Details:
Returns to the original departure point
Tue 31 Oct 2023: Prague Castle Walking Tour Including Admission
Tour Prague Castle on a 2.5-hour walking tour and learn about more than ten centuries of the city's history while exploring the biggest castle complex in the world! Discover St. Vitus Cathedral, Old Royal Palace, St. Georges Basilica, and Golden Lane. 1:15 PM
What's Included
Inclusions:
Local guide
Tram ticket
Admission tickets for St. Vitus Cathedral, Old Royal Palace, St.
Georges Basilica, and Golden Lane
Entry/Admission - St. George's Basilica
Entry/Admission - Old Royal Palace
Exclusions:
Food and drinks
Gratuities
Hotel pickup and drop-off
Tue 31 Oct 23: Walking Night Tour - Ghost Stories and Legends
Join this ghosts and tales walking tour of Prague's Old Town and explore the charming dark side of Prague. This night tour is guided by an elegant and professional story-teller dressed in a historical gothic outfit, will take you through the cobblestone streets and alleys of Old Town and the Jewish quarter, visiting places where dark tales and legends are told before Gothic churches, convents, medieval houses.
Note that Mysterium Tours does NOT craft typical guided tours for tourists, these are immersive storytelling experiences about legends, histories, and tales not always associated with the building we stand in front of. English 20:00
Duration: 1 hour 50 minutes 8:00 PM
What's Included
Inclusions:
Professional Art Historian guide
Storytelling performance
Exclusions:
Hotel pickup and drop-off
Access to interiors of sites visited
Coffee and/or Tea
Snacks
Departure Point:
Staromstsk nm. 934/5, Star Msto, 110 00 Praha-Praha 1, Czechia
Duration:
1 hour 45 minutes
Return Details:
Old Jewish Cemetery, irok 3, Star Msto, 110 00 Praha-Praha 1,
Czechia
Wed 01 Nov 2023: Departure
Private Transfer Hotel to Airport
Prices:
Deposit £125pp
✅X58600 Heathrow from £679pp
Deposit £600pp/Departure Date 29 Oct 23 (Excludes Houska and Kokorin castle tour)
✅X58626 Glasgow from £595pp
Deposit £400pp/Departure Date 29 Oct 23 (Excludes Houska and Kokorin castle tour
✅X58623 Manchester from £665pp
How to Book:
Call 0208 585 4020
Email: holidays@travelpack.com
Terms and conditions:
Based on 2 adults sharing, Subject to availability
Offer Includes
Return Direct flights with Hold Baggage Included
4 Nights stay at 4* St George Hotel in a Standard Room with Bed & Breakfast
Prague Oldtown, Medieval Underground and Dungeon
Haunted castle Houska and Kokorin castle tour
Half-Day Trip to Kutna Hora and Bone Church
Prague Castle Walking Tour Including Admission
Walking Night Tour - Ghost Stories and Legends
Private Airport Transfers
Meal Plans