Spirit Circle - Self Drive
Spirit Circle - Self Drive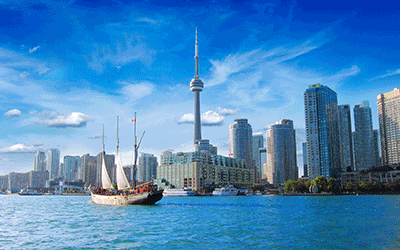 £999
27 May 22
27 May 22
31 Mar 22

Highlights: Toronto - Midland - Georgian Bay - Manitoulin Island - Huntsville - Algonquin Park
Other departures: Manchester - £1199, Birmingham - £1199, Newcastle - £1199,  Edinburgh - £1199, Glasgow -£1199,  Norwich - £1199
Introduction:
Get close and personal to Canada's First Nation culture on this intimate self-drive tour which offers the opportunity to explore many of Ontario's top heritage sites. From the bustling cosmopolitan metropolis of Toronto to the authentic First Nation communities on Manitoulin Island, this tour offers a wonderful insight into Canada, old and new.
Itinerary:
Day 1: Toronto
Pick up your rental car at Toronto airport and make your way downtown Toronto. Holiday Inn Downtown for 2 nights.
Day 2: FREE DAY Toronto
Take in the waterfront, perhaps enjoy a lakeshore cruise or explore Toronto's many museums and attractions. The shopping is excellent, while no stay in Toronto would be complete without a visit to the top of the CN Tower, once the world's tallest free-standing structure, from which the views across the city and Lake Ontario are outstanding. While in Toronto you may wish to visit the Art Gallery of Ontario to view their collection of First Nations art and objects.
Day 3: Toronto – Midland/Georgian Bay (148 km)
Today travel to the Georgian Bay area. We recommend visiting Sainte Marie among the Hurons, a community reconstructed to tell the story of early Jesuit missionaries and their Huron Christian converts. Nearby is the Huronia Museum, which features a replica of a "precontact" Huron/Ouendat village, including a lookout tower, wigwam, and a full-size longhouse. At the same location is the Wye Marsh Wildlife Centre where you can enjoy the famous Wye Marsh Trumpeter Swans. Comfort Inn Midland for 2 nights
Day 4: FREE DAY Georgian Bay Area
Nearby Discovery Harbour in Penetanguishene offers the chance to view two perfectly recreated early nineteenth-century schooners. Recommended: Miss Midland 30,000 Islands Boat Cruise Take a 2.5-hour sightseeing cruise aboard Miss Midland and experience the sparkling water, the windswept pines, and the rocky grandeur of Muskoka-Georgian Bay's 30,000 islands.
Day 5: Midland - Manitoulin Island (298 km)
The Great Spirit Circle Trail encompasses eight First Nation communities on Manitoulin Island and the Sagamok region in Northeastern Ontario. Your Spirit Island Adventures hosts will treat you with hospitality that reaches back centuries. With a rich storied history, crystal clear waters, and the vibrant culture of the Anishnabek people, let Spirit Island Adventures be your host to discover the powers of the 'M'Nidoo M'Niss'. Manitoulin Hotel & Conference Centre for 2 nights.
Day 6: Manitoulin Island
Included in your package is a Canoe Heritage Tour. Paddle your way through
the heart of Manitoulin in one of the many freshwater inland lakes in the M'Chigeeng, Mindemoya area. Your guide will be stopping from time to time for rest breaks while sharing local legends, Island history, and survival techniques at different points of interest. Also included is a 1-hour Medicine Walk. Escorted by your Indigenous Guide, learn how to identify various local plant species and receive an explanation of their traditional cooking and medicinal uses. Recommended: Traditional Song and Drum - Listen, learn and feel the heartbeat of Mother Earth through the "Voice of the Drum". This experience provides an introduction to native song and drum through an exhilarating hand drum performance by a professional singer or group. Recommended: Banamick & Berries - Sample traditional foods harvested from the lands of Manitoulin. An interactive experience where you make a bannock over an open fire and prepare your taste buds for an experience that is unforgettable.
Day 7: Manitoulin Island - Huntsville (400 km)
Crossing back to the mainland via Little Current you'll travel through the lakes and woodland areas to Sudbury. Here there is the option to visit two of Canada's largest and most innovative science centers, Science North and Dynamic Earth. Get up close to a flying squirrel and learn about Northern Ontario wildlife. Enjoy "explosive" live science shows at Science North. Discover why Canadian diamonds are the most valued in the world. Descend 7-storeys underground and participate in a simulated dynamite blast at Dynamic Earth. Hidden Valley Resort for 2 nights.
Day 8: FREE DAY Algonquin Park Area
Exploring this wilderness playground you may wish to participate in many of the following activities; Hiking, biking, boating, and wildlife viewing are the order of the day – black bear and moose are often spotted, while the variety of birdlife will astound you. Explore Algonquin Park by traditional Voyageur canoe – a unique experience that can be arranged locally, enjoy a round of golf at one of the excellent local courses - or simply relax and soak up the region's hospitality.
Day 9: Huntsville – Toronto (230km)
Drive south through the scenic lake country of Gravenhurst and Orillia, around Lake Simcoe to reach Toronto Airport where the journey ends.
Prices are subject to change and availability
Please send in your enquiries to holidays@travelpack.com
Offer Includes
Return flights from London Gatwick
Airport taxes
8 nights accommodation as per Itinerary
Compact car for the duration Including Unlimited mileage, CDW, Theft protection and third party liability
Half day Canoe Heritage Tour, Manitoulin Island
1 hour Medicine Walk, Manitoulin Island
Document pack at hotel on arrival with maps and information
Applicable taxes
Meal Plans