Self Drive Tour - New York State Explorer
Self Drive Tour - New York State Explorer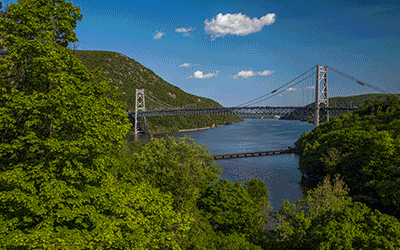 £1829
30 Sep 22
30 Sep 22
31 Aug 22

Highlights: New York - Hudson Valley - Syracuse - Buffalo
Itinerary:
Day 1: New York - Hudson Valley
This morning, pick up your rental car and begin your exploration of New York State with a 90-minute drive to the Hudson Valley. Designated as a National Heritage Area, the valley is steeped in history, natural beauty, culture, a burgeoning food and farmer's market scene, and great shopping. Treat yourself with a visit to the world's premier culinary college - The Culinary Institute of America. While here, join a student-guided tour, do a little shopping, and be sure to enjoy the campus' award-winning restaurants and cafes.
Day 2: Hudson Valley
Begin your day with a casual stroll along the longest pedestrian bridge in the world. Standing 212 feet above the water and 1.28 miles in length, Walkway Over the Hudson State Historic Park offers hikers, bikers, and strollers spectacular views of the Hudson River Valley. Today is also the perfect day to visit the Roosevelt-Vanderbilt National Historic Sites. Here you can tour Vanderbilt Mansion - a remarkably complete example of a gilded-age country place, the Home of FDR and Presidential Library & Museum, and his wife Eleanor's private cottage. Save time to visit the Old Rhinebeck Aerodrome. This "living" museum presents one of the largest collections of early airplanes in the world, as well as automobiles, motorcycles, early engines, and memorabilia spanning the period from 1900-to 1939. June-October considers taking to the skies with a biplane ride any day of the week and enjoying weekend airshows.
Day 3: Hudson Valley
This morning visit Madava Farms, the largest sugarhouse producing quite possibly the purest maple syrup on Earth - Crown Maple. Go behind the scenes for a tour and enjoy gourmet culinary experiences along with breathtaking views. Following your morning at the farm, visit Innisfree Garden. Recognized as one of the "world's ten best gardens," Innisfree is a distinctly American stroll garden - a sublime composition of the rock, water, wood, and sky achieved with remarkable grace. This evening, dine in historic Rhinebeck and sample some wine along the Dutchess County Wine Trail.
Day 4: Hudson Valley - Syracuse
Today, make your way east from the Hudson Valley to the middle of the state and eastern gateway to the Finger Lakes region - Syracuse. This afternoon and evening explore downtown Armory Square. This old neighborhood with a new attitude boasts specialty restaurants, boutique shops, and entertainment venues.
Day 5: Syracuse
Today is your shopping day! Visit Destiny USA for premier shopping, dining and entertainment. This is the 6th largest shopping center in the United States and you'll find well-known branded stores, unique shopping, and everything in between from Go Karts at Pole Position to bowling and high ropes courses. Believe me, you will find enough to do here for a full day of fun! Following your shopping time spend the late afternoon and evening in the close by village of Skaneateles. This quintessential Finger Lakes village offers fine boutique shopping, art galleries, placid scenery, wineries, and a scenic boat tour on Mid-Lakes Navigation. Spend time perusing shops and wandering this picture-perfect area and enjoying dinner before heading back to your hotel to finish out the evening.
Day 6: Syracuse
This morning visit the Ska-nonh - Great Law of Peace Center, a Heritage Center focused on telling the story of the native peoples of central New York. Here, history is told through the lens of the Onondaga Nation who remain among the last sovereign Indigenous peoples in the US. Spend the afternoon at the Erie Canal Museum. Committed to preserving the only existing weighlock building in the US, this 1850 structure features a full-size replica of a canal boat and many hands-on exhibits. This evening, plan for a feast at the original Dinosaur Bar-B-Que. Home to bikers and businessmen alike, this Syracuse legend offers critically acclaimed barbeque and weekly lineups of blues musicians.
Day 7: Syracuse - Buffalo
Today, hit the road once more and shuffle off to Buffalo, the second-largest city in New York State. Upon arrival discover the jewel in Buffalo's crown - Canalside. This beautiful new destination located on the shore of Lake Erie boasts free scheduled events nearly every day from Memorial Day through Labor Day and plenty of everyday activities. Dine along the water, walk along the boardwalk, take a historical boat tour, rent kayaks or water bikes, or visit the Naval & Military Park museum, home to several decommissioned US Naval vessels. You won't want to miss the sunset - it's spectacular! And once dusk hits, see one of Buffalo's historic grain elevators transform into a spectacular light sculpture. This evolving light show can be enjoyed from the boardwalk and Outer Harbor. Should you wish to explore a little further, make your way to the nearby Riverworks Restaurant & Brewery for another beautiful view of the lake before returning to your hotel.
Day 8: Buffalo
For those interested in architecture, this can be an all Wright day as Buffalo is home to five of Frank Lloyd Wright's residential, recreational and monumental designs. Start with a visit and tour of the famous Martin House. This multi-structure estate designed for Darwin D. Martin is a masterpiece of 20th-century architecture and is widely considered one of Wright's finest Prairie Houses - a signature work from the early years of his celebrated career. Later, embark on Buffalo Bites Food Tours three-hour guided walking and dining tour of Elmwood Village. It's the perfect combo - eat delicious samples from local eateries, explore the neighborhood and enjoy entertaining history. Continue to enjoy the outdoors this evening by visiting one or more of Buffalo's craft breweries. In fact, pick up Buffalo's Brewcation Passport to guide you through the city's brewery landscape. Alternatively, visit The Buffalo Zoo or the famous Albright Knox Art Gallery rounding out your day in and around the Elmwood Village area.
Day 9: Buffalo
This morning, lose yourself without getting lost during a self-guided walking tour. Enjoy beautiful buildings and splashes of public art within the city's neighborhoods while building up an appetite for Buffalo Style Wings at Anchor Bar - home of the original chicken wing. Mild, medium, hot or suicidal (if you dare) - all are served with Bleu cheese and celery. After lunch, be captivated by the sheer beauty and power of Niagara Falls. See this legendary force of nature from every angle at Niagara Falls State Park. Witness the intensity of the falls from inches away at the Cave of the Winds, or meet the legends and marvel at the myths at the Niagara Legends of Adventure Theater. Cruise the churning waters near the base during a Maid of the Mist boat ride, or photograph both the American and Horseshoe Falls from the 230-foot Observation Tower. Every evening beginning at dusk watch the falls transform into a multicolored water and light masterpiece, and enjoy a spectacular display of fireworks every Wednesday, Friday, and Sunday evening May-October. Return to Buffalo in the late evening.
Day 10: Buffalo departure
Return your rental car to Buffalo Niagara International Airport prior to your departure.
Offer Includes
Return flights from London Heathrow
Airport taxes
9 nights accommodation as per Itinerary
Meal Plans