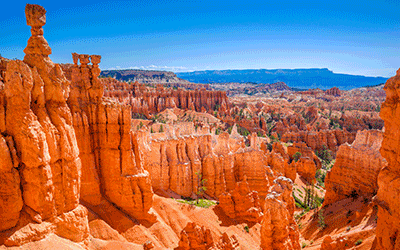 £999
31 Oct 22
31 Oct 22
31 Dec 21

Highlights: Sonoran Desert - canyon-carved lakes - Cornville - Sedona - Oak Creek - Flagstaff - Grand Canyon - Red Rock Country - Kaibab National Forest to Cameron - Lake Powell - Colorado River - Bryce Canyon - Dixie National Forest - Zion National Park - Las Vegas - St. George area - Hoover Dam
Please note the above price is per person based on 4 adults.
Other departures:
Manchester £1449
Birmingham £1449
Bristol £1549
Norwich £1599
Newcastle £1599
Edinburgh £1599
Glasgow £1599
Price per person based on 2 adults:
London Heathrow £999
Manchester £1049
Birmingham £1049
Bristol £1199
Norwich £1199
Newcastle £1199
Edinburgh £1199
Glasgow £1199
Motorhome Itinerary
Day 1 > Spend a night or 2 in Mesa before collecting your motorhome from Cruise America. Located in the Sonoran Desert, Mesa is surrounded by a rich, vibrant and verdant playground for sought-after outdoor recreation. Immerse yourself into the legendary landscape - a region full of intrigue and awe, from hiking mountain tops to kayaking along calm rivers and canyon-carved lakes, nearly every outdoor pursuit can be experienced here. Book the EBDS so you can make a nice early start as Mesa is a culinary gateway with the region's neighbouring farms providing a continuous bounty of seasonal goods for visitors.0120 miles to Cornville* The agritourism experiences on the Fresh Foodie Trail are one-of-a-kind so be sure to check out theVisit Mesa website www.visitmesa.com/cruiseamerica
(this includes special offers for Cruise America renters) and go and explore. At the same time stock up on some fresh local seasonal provisions to tide you over for the next few days.
Day 2 > Enjoy some time in the glorious landscape that is Sedona, maybe take a pink jeep tour, enjoy some time in the water at Slide Creek State Park or just enjoy swimming, wading or fishing at Oak Creek by the campground. Then it is just a short drive to Flagstaff, the 'gateway' to the Grand Canyon. 0 Drive 45 miles to Munds Park, Flagstaff * Explore Sedona in the Red Rock Country and take time to enjoy a dip at Slide or Oak Creek.
Day 3 > The highlight of the next part of this tour will be when you stand at the rim of this magnificent National Park. No photograph, painting or film begins to capture it: you just have to carry the memory away with you. We like the Mather Campground for its peace and quiet and natural surroundings. 0 140 miles to South Rim of the Grand Canyon * Be on the rim for the mesmerising colour changes of sunrise and do try to take a helicopter flight over the Canyon. It's life-changing!
Day 4 >Today head East through more of Grand Canyon National Park and through the Kaibab National Forest to Cameron, where you will go north on Hwy 89 to the City of Page and fabulous Lake Powell on the Colorado River. The drive is just under 3 hours. Try and leave early so you can enjoy something of the Lake Powell adventures! Taking a speedboat to Rainbow Bridge is our favourite. Wahweap is right on the Lake. 0 145 miles to Lake Powell * Rent a speedboat and make for Rainbow Bridge. Stay another night or a bit longer and also visit Antelope Canyon - a photographers dream!
Day 5 > Continue on scenic Highway 89 for almost 130 miles then turn right on 12 for Bryce Canyon, and Ruby's Inn Campground. On your journey, you will drive through the Dixie National Forest. It will take about 2 ½ hours to get to Bryce Canyon so set off early to enjoy this very different National Park with its strange columns and pinnacles of rock. 0 145 miles to Ruby's Inn, Bryce Canyon * Visit the Escalante Grand Staircase National Monument begins near Ruby's Inn and is a very unique region of canyons, arches, plateaus and cliffs.
Day 6 > Travel south on Hwy 89 heading for Zion National Park. Zion is different again, more lush, but spectacular too. You will want to stop and linger. Just 14 miles further on, Zion River Resort is ideally located for easy access to what truly is one of the nation's most beautiful parks so you may want to base yourself here for more than one night. 0 10 0 miles to Zion River Resort * There is so much to see, do and enjoy in Zion from hiking the narrows or taking the trail to Angels landing or
maybe just enjoying the breathtaking scenery on a mule ride! Complete your day with a visit to the Zion Canyon Theatre.
Day 7 > Because you will probably want to spend more time in Zion National Park this morning, we are taking just a short drive to Mesquite to overnight on our way to Las Vegas. Also, we want you to be able to enjoy a pleasant and interesting drive to the city which could not be accomplished in one day. Take a look at the Desert Skies Resort website; we know you'll enjoy your overnight stay. 0 180 miles to Mesquite * Visit the St. George area; a historical gold mine full of pioneer homes, fascinating ghost towns, and prehistoric dinosaur footprints
Day 8/9 > If you wish, you can take Interstate 15 right into Las Vegas. However, we prefer the more leisurely route through the spectacular Lake Mead Recreation Area. Continue on Lake Shore Drive; stop off at Boulder Beach; then to the amazing Hoover Dam - certainly a most amazing man-made wonder. Then you can either head to the fabulous Oasis Resort Campground or you may prefer to return your Motorhome and check in to one of the
many amazing opulent or themed hotels on the strip! 0 120 Miles to Las Vegas * Visit the Valley of Fire State Park on the way to the Hoover Dam.
Day10 > Only 15 miles to Cruise America Las Vegas to drop off your motorhome.
Prices are subject to change and availability
Please send in your enquiries to holidays@travelpack.com
Offer Includes
Return flights from London Heathrow
10 nights as per Itinerary
C25 Motorhome Rental and 1 pre night included
Flex Rates Includes:
Statutory Liability Coverage
Supplemental Liability Insurance up to $1,000,000 USD
Primary Coverage up to $1,000,000 CDN
VIP Coverage ($1,000 deductible per incident)
1000 miles
Personal kit
Vehicle Kit
Tax
Meal Plans