Las Vegas, San Francisco & Hawaii Cruise
Las Vegas, San Francisco & Hawaii Cruise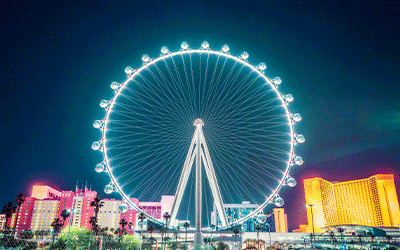 £3099
30 Dec 23
30 Dec 23
30 Sep 23

Deposit Inside Cabin £300pp/Balcony Cabin £500pp
Based on 2 adults sharing
Other Departures: Manchester, Glasgow, Edinburgh & Belfast from £3199pp

Note: Balcony Cabin Upgrade from £1115pp!

This Cruise includes Princess Plus so you will receive the following:
*Plus Beverage Package inclusive of bar service charge. For all guests under the drinking age, the Plus Coffee & Soda Package will be provided as an alternative.
*Unlimited Wi-Fi for all guests in the cabin who have booked Princess Plus, on device per guest
*Pre-Paid Crew Appreciation for all guests in the cabin who have booked Princess Plus
*Premium Desserts (2 per day)
*Fitness Classes (2 classes)
Hotel Featured:
Las Vegas- Luxor Hotel & Casino 4*
San Francisco- Hotel Zeppelin 4* 
One of the most recognizable structures in Las Vegas, the 30-story pyramid of Luxor Resort is an architectural wonder that invites curiosity, while the inside rewards visitors with equal parts excitement, mystery, and intrigue.
Hotel facilities:
11 Restaurants and 3 coffee shops, 4 bars/lounges and 1 Poolside bar, 4 Outdoor pools, 4 Hot tubs
Recreational facilities:
Spa, Sauna, Gym
General facilities:
Free WiFi, Laundry facilities, Dry-cleaning service
Retreat to a bold, bohemian salute to the rebels and revolutionaries who shaped the city we know and love. Shake up your standard stay in spacious, eclectic hideaways and let Hotel Zeppelin transform the way you think about travel. Old and new. Yin and yang. Rock and roll. Find yourself in the heart of San Francisco, steps from the action.
Recreational facilities:
Arcade/game room, Billiards/pool table, Gym
General facilities:
Free WiFi, Dry cleaning/laundry service
Hawaii Cruise - Princess Cruises on Sun 07 Jan 24
Hawaii Cruise 
Crown Princess
Inside Cabin
Category IE
Itinerary
Itinerary Date Day
Duration
San Francisco, California 07 JAN 24 SUN DEPART 4:00PM
CHECK IN Starts at 0100P
At Sea 08 JAN 24 MON
At Sea 09 JAN 24 TUE
At Sea 10 JAN 24 WED
At Sea 11 JAN 24 THU
Hilo, Hawaii 12 JAN 24 FRI ARRIVE 8:00 AM DEPART 5:00 PM
Honolulu, Hawaii 13 JAN 24 SAT ARRIVE 7:00 AM DEPART 11:00 PM
Kauai (Nawiliwili), Hawaii 14 JAN 24 SUN ARRIVE 8:00 AM DEPART 5:00 PM
Maui (Lahaina), Hawaii 15 JAN 24 MON ARRIVE 7:00 AM DEPART 6:00 PM
WATER SHUTTLE REQUIRED WHEELCHAIR ACCESS LIMITED
At Sea 16 JAN 24 TUE
At Sea 17 JAN 24 WED
At Sea 18 JAN 24 THU
At Sea 19 JAN 24 FRI
At Sea 20 JAN 24 SAT
Ensenada, Mexico 21JAN24 SUN ARRIVE 8:00 AM DEPART 5:00 PM
At Sea 22 JAN 24 MON
San Francisco, California 23JAN24 TUE ARRIVE 7:00 AM
As you have booked Princess Plus you will receive the following:
*Plus Beverage Package inclusive of bar service charge. For all guests under the drinking age, the Plus Coffee & Soda Package will be provided as an alternative.
*Unlimited Wi-Fi for all guests in the cabin who have booked Princess Plus, on device per guest
*Pre-Paid Crew Appreciation for all guests in the cabin who have booked
Princess Plus
*Premium Desserts (2 per day)
*Fitness Classes (2 classes)
Offer Includes
Return flights from London Heathrow
Airport taxes
Domestic flights with Baggage
5 Nights stay at 4* Luxor Resort & Casino in a Pyramid King Room
3 Nights stay at 4* Hotel Zeppelin San Francisco in a Superior Room
Private Transfers in San Francisco
(Airport to Hotel - Port - Airport)
15 Nights Hawaii Cruise including Hilo, Honolulu, Kauai, Maui & Ensenada, Mexico! Inside Cabin
Meal Plans