India - In Search of Tigers Kumaon & Corbett Country
India - In Search of Tigers Kumaon & Corbett Country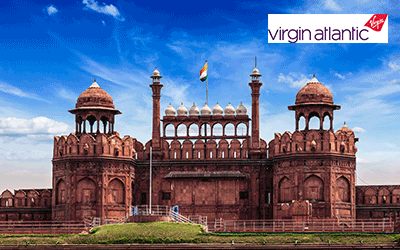 £2939
01 Oct 20
09 Dec 20
30 Apr 20

Important note:- Taj Mahal remains closed on every Friday
Highlights: Delhi - Jaipur - Ranthambore - Bharatpur - Delhi - Corbett - Almora - Delhi
Alternate travel date: 16 Jan 21 - 31 Mar 21
Hotels:
Delhi - Lalit
Jaipur - Sarovar Premiere
Ranthambore - Puratan Qila
Bharatpur - Laxmi Niwas Palace
Delhi - Grand Corbett Infinity Resort
Almora - Kasar Rainbow Yoga Retreat
Delhi - Pride Plaza (Aerocity)
This exciting tour combines the rich cultural heritage of India's 'Golden Triangle' - Delhi, Agra and Jaipur - with spectacular wildlife sanctuaries and National Parks. Indulge the senses as you explore magnificent monuments, including the Taj Mahal, vibrant cities, and lush tropical forests teeming with wildlife.
 
Highlights:
• Cycle rickshaw ride in Delhi
• Akshardham Temple 
• Traditional dinner and show In Jaipur 
• Cycle Rickshaw ride through Keoladeo Ghana National Park 
• Wildlife safari in Corbett and Ranthambore National Park 
• Train ride on India's semi high-speed bullet train, the "Gatiman Express"
Itinerary:
Day 1: London Heathrow to Delhi
Depart London Heathrow on a Virgin Atlantic flight to Delhi.
Day 2: Delhi
Arrive Delhi at approximately 0920. Transfer by air-conditioned vehicle to our hotel. After lunch (own cost) we will enjoy a leisurely visit to Akshardham Temple with its impressive 141ft high monument to Bhagwan Swaminarayan. Designed according to ancient Vedic texts known as the Sthapatya-Shastra, it features a blend of architectural styles from across India. The building is constructed entirely from Rajasthani pink sandstone and Italian Carrara marble and features no steel or concrete. Situated on the banks of the Yamuna River and with its splendidly intricate carvings of flora, fauna, dancers, musicians, and deities covering its walls, the Temple is an architectural work of art. 
Overnight hotel stay.
Day 3: Delhi
After breakfast, we will set off on a city tour of Delhi and our first stop will be at the Raj Ghat, which is the memorial to Mahatma Gandhi, located on the banks of the river Yamuna, We will continue into Old Delhi, driving past the Red Fort, an impressive 17th-century monument which is surrounded by 100 ft high walls, and home to numerous palaces, monuments, and gardens. We will stop and board our 'cycle rickshaw' for a unique experience from the Red Fort, through "Chandni Chowk" or Silver Street, experiencing the sights and sounds of this very busy avenue-heading west from the Fort. Close to the Red Fort is the Jama Masjid (Friday Mosque) which is a stunning complex, created from red sandstone and white marble in 1656, and which is one of India's largest mosques and can accommodate up to 20,000 people for prayer. We will continue our tour, exploring the highlights of New Delhi stopping at  Humayun's Tomb, which was commissioned by the first wife of Mughal Emperor Humanyun in the 16th Century after his death. We will continue on to a true landmark of Delhi, the Qutub Minar, a 72.5-meter high minaret which is part of the Qutub complex and was commissioned by Qutub-ud-Din Aibak in 1193 to celebrate Muslim dominance in Delhi. We will drive past the Rashtrapati Bhawan, formerly the Viceroy's residence and now the official residence of the President of India, before a brief stop at the India Gate, an imposing arch which was built to commemorate the 70,000 Indian soldiers who died in WW1 and the British and Indian soldiers killed in the Afghan War of 1919 (all of which are engraved on the arch and foundations). Overnight stay at Hotel
Day 4: Delhi to Jaipur  (approx. 258 km, 6 hrs)
After an early breakfast, we will check-out of our hotel and drive to Jaipur. Jaipur was founded in 1727 by Maharaja Sawai Jai Singh - II, the ruler of Amber. Jaipur is commonly known as the 'Pink City' as much of the old city was painted pink to celebrate the visit of the Prince of Wales in 1876. On arrival at Jaipur, we will check-in at our hotel. This evening we will proceed to "Chokhi Dhani" for traditional Rajasthani dinner with dance and music. Chokhi Dhani is a concept capturing the vibrant spirit of Rajasthan and ensuring a perfect Rajasthani experience. Overnight stay at Hotel.
 
Day 5 Jaipur
This morning we will depart on an excursion to the Amber City Fort situated 11km north of the city, and set amidst the Aravalli hills at an elevation of 111 meters. After lunch (not included) we return to Jaipur and enjoy a visit to The Maharaja's City Palace, which exhibits a delightful blend of Mughal and traditional Rajasthani architecture. Other sights we will visit include: 
Jantar Mantar, the largest and best-preserved of the five observatories built by Jai Singh II in different parts of the country and featuring the world's largest stone sundial; Hawa Mahal, also known as the "Palace of Winds" is a must-see landmark in Jaipur, with its spectacular pink sand-stone architecture and 953 windows on its outside wall set amongst incredibly intricate carvings. Johari Bazaar, the main bazaar, located in the old city and an excellent place to source jewelry and saris. Overnight stay at Hotel
 
Day 6: Jaipur to Ranthambore (approx. 180 km, 4 hrs)
After breakfast, we will check out from our hotel and drive to Ranthambore National Park  - an outstanding example of Project Tiger's strenuous efforts at conservation in India. Ranthambore NP is renowned for its Tiger population but is also home to crocodiles, hyenas, jungle cats, wild dogs, sloth bears, panthers and much more. The Park, which covers an area of nearly 400 sq. km. is set between the Aravali and Vindhya mountain ranges and was a part of the magnificent jungles of Central India. On arrival at Ranthambore, we will check-in at our hotel. Rest of the day at leisure and overnight stay at the hotel.
 
Day 7: Ranthambore
Today we will enjoy morning and afternoon game drives in Ranthambore National Park in search of Tigers! Overnight stay at Hotel.
Day 08 Ranthambore to Bharatpur (Approx. 210 Kms, 4-5 Hrs)
After breakfast, we will continue on a scenic drive to Bharatpur. On arrival in Bharatpur, we will check-in at our hotel. This afternoon we will enjoy a rickshaw ride at the Keoladeo National Park, formerly known as the Bharatpur Bird Sanctuary and a Duck hunting reserve for Maharajas, it is now home to an abundance of indigenous and migratory birds. Overnight stay at the hotel.
Day 9: Bharatpur to Delhi via Agra (Approx. 270 Kms, 7 Hrs)
After breakfast, we will check out from our hotel and drive to Agra. En-route we will visit Fatehpur Sikri, which is a beautiful, deserted medieval city, built by Mughal Emperor Akbar the Great in the 16th century to serve as the capital of his vast empire. It was abandoned after his death, probably because of poor access to water, and is perfectly preserved as a ghost city built at the height of the empire's splendor. We will continue our journey to Agra.
 
Agra is a medieval city on the banks of the Yamuna River, founded by Sultan Sikandar Lodi in the year 1506 and the capital of the Mughal emperors from 1526 to 1658. It is the heritage of its many Mughal-era buildings, notably the Taj Mahal and the Agra Fort, which are both UNESCO World Heritage Sites and attract visitors from all over the world.  
Upon arrival at Agra, we will begin our packed tour with a visit to the world-famous monument of the Taj Mahal. Set on the banks of the River Yamuna, the Taj Mahal is a classic example of Mughal architecture and a symbol of the devotion of Shah Jahan who ordered its construction between 1632 and 1653 as the final resting place of his favorite wife Arjumand Bann Begum (also known as Mumtaz Mahal) who died in 1631. We will continue our tour, visiting the spectacular Agra Fort and explore a history dating back to the 11th century. We will transfer to Agra railway station to board our train to Delhi departing at 1750 and arriving at 1930. On arrival, we will transfer to our hotel. Hotel for an overnight stay.
Day 10: Delhi to Corbett (approx. 258 km, 6 hrs)
After breakfast we will take the long scenic drive to Corbett National Park, India's first National Park which was named after Jim Corbett, the renowned hunter turned conservationist. Fed by the Ramganga River, the National Park has rich biodiversity and is the perfect habitat for tigers, elephants, hog deer and over 580 species of birds. On arrival at Corbett, we will check-in at our hotel. Rest of the day at leisure and overnight stay at the hotel.
Day 11: Corbett
Early morning and afternoon jeep safari at Corbett National Park. Overnight stay at the hotel.
Day 12: Corbett to Almora (approx. 220 km, 6 Hrs)
This morning we will continue our journey to Almora, which is beautifully situated in the foothills of the Himalayas. A place to relax and chill. Overnight stay at Hotel.
Day 13: Almora
We will set off early this morning on an excursion to Binsar – a picturesque sleepy hamlet, and one of the most scenic towns in the Kumaon Himalayas. Home to a wide variety of wildlife and flora, Almora offers majestic views of the snow-coated Himalayan peaks from an altitude of 2,420 meters. Return to Almora. Overnight stay at a hotel. Day 14 Almora to Delhi via Kathgodam. Kathgodam to Delhi by train. After breakfast, we will drive to Kathgodam railway station to board our train for Delhi. Depart  Kathgodam at 1535 to arrive in Delhi at 2105. On arrival in Delhi, we will transfer to our hotel. Overnight stay at Hotel.
Day 15: Departure
Delhi to London Heathrow by flight. Morning transfer from our hotel to Delhi airport in time to board Virgin Atlantic.
Offer Includes
Flights from London Heathrow with Virgin Atlantic
Airport taxes
13 nights accommodation as per the Itinerary
All transfers, sightseeing & excursion as mentioned in itinerary by air-conditioned car
Entrance fees to the Monuments
Services of local English speaking guide as per the itinerary during city tour
Cycle Rickshaw Ride at Old Delhi
Jeep joy ride at Amber Fort, Jaipur
Representative for assistance on all arrival and Departure Transfers
2 Game drives at Ranthambore National Park by shared open jeep
2 Game drives at Corbett National Park by shared open Jeep
Cycle Rickshaw ride at Bharatpur
Dinner at Chokhi Dhani
Train fare for the sector Agra / Delhi & Kathgodam / Delhi by Ac chair car
Meal Plans