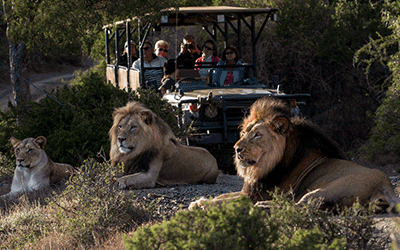 £2019
15 Nov 22
15 Nov 22
30 Jun 22
Highlights: Hiking Trail, Beach, Safari
Other departures: Manchester - £2095, Edinburgh - £2075, Newcastle - £2075, Glasgow - £2069, Belfast - £2079
Itinerary:
Day 1: Flight.
Meals: Dinner & Breakfast.
Day 2: Arrival Gqeberha - Chief Dawid Stuurman International Airport.
Transfer.
Cape St Francis Resort.
Accommodation: Cape St Francis Resort.
Meals: Club Break Standard Room Bed & Breakfast.(Excludes drinks)
Day 3: Hiking Trail 18km (or less).
Enquire the night before at reception for time to meet for the briefing.
The Chokka Trail,
The 62km trail lies between Oyster Bay, St Francis Bay and Cape St Francis, Fitness, Whether you are a seasoned hiker or novice, or only "lifestyle fit", you will enjoy this diverse hike. Situated in the greater St Francis, Eastern Cape, is an award winning 4 day/3 night slackpacking hike. We walked (or hiked?) away with the National Lilizela Award for Best Visitors Experience for four consecutive years. It is much more than just a hike, as it also includes a canal cruise on the famous St Francis canals, a calamari tasting and if possible, a visit to the Seal Point Lighthouse. The local chokka (squid) industry is the heart of St Francis. We will take you to Oyster Bay, a trip of around 45 minutes to check in to the Oyster Kaya, your accommodation for the first night. Lunch packs will be provided and you can set off on your warm-up walk. The full walk is around 18km but you can do as much or as little as you like, because it is an out-and-back trail along the coast to Thysbaai (if you have time and you can't resist adding a beach walk, please note that the bay is 3km long). We suggest you walk out for no more than two and a half hours before turning back. The trail follows the rugged coast line, through fynbos and low coastal thickets. It is peaceful and uninhabited, with only an occasional fisherman to be seen and the crashing waves and birdsong to be heard. At low tide you can see ancient fish traps in a rock gully, built over two thousand years ago by the KhoiSan. This walk will soothe your spirit and ease your body into the trail mode – and add extra enjoyment to the sundowners and dinner being prepared for you. Should you be lucky to arrive early (or have spent an additional night in Oyster Bay), you can also enjoy a walk on the 8km Oyster Bay beach to Klippenpunt and back.
Accommodation: Oyster Kaya.
Meals: Breakfast, Lunch & Dinner. (Excludes drinks)
Day 4: Hiking Trail 16km
After a hearty breakfast, you pick up your lunch pack, fill enough water bottles to last you at least 6 hours and set off down the road, leaving your luggage to be transported to your next overnight stop. One of the locals will hike with you, mainly because it is impossible to mark the route, and the dunes are forever changing so a route description is also useless (we love the dunes so welcome any excuse to spend a day there!). You leave the road after about 2km, turning through a security gate onto private property and entering another world.
Peace and tranquility take over as you walk through the bush, enjoying the birdsong in the coastal thicket on either side of you. The track leads you to the dunes of the Oyster Bay Dune Bypass System, also referred to as the Sand River by the locals. The dunefield is mobilised by wind and water. The prevailing westerly shapes the dunes, which slope gradually up in front of you and then drop steeply. Your challenge is whether to slide down or traverse! Remember to look across the countryside to the mountains in the north, the beautiful Baviaanskloof mountain range, and look around you for evidence of ancient cultures – a feature of the dunefield is the KhoiSan. The day's hiking finishes at the Dune Ridge Country House, situated on a private conservation reserve. You will enjoy a well deserved drink around the swimming pool, before you find your room for the night.
Accommodation: Dune Ridge Country House
Meals: Breakfast, Lunch & Dinner. (Excludes drinks)
Day 5: Hiking Trail 15km
The day's hiking starts with a trail through an indigenous coastal forest, where an old man's beard and mushrooms guard over roaming bush pigs and small buck. After a few steep dunes (sorry!) you will cross into the coastal thicket before you reach the Mostertshoek road. The trail meanders through a small group of holiday cottages at Mostertshoek and along the Wild Side, so named for the untamed sea that crashes onto the rocks in spectacular fashion the length of the trail. Look for otters in the rock pools and keep your eyes open for Oystercatchers, Kelp Gulls, Terns, and Turnstones. Again you will be accompanied by a local hiker to make sure you don't miss the second largest blowhole in Southern Africa, the remains of the Osprey (a shipwreck), an unmarked grave and more middens. After about 12 km you will arrive at the village of Cape St Francis, passing Sunset Rock on your right. Sunset Rock is a favourite whale watching lookout point as well as a photographer's dream for sunset seascapes. From the Seal Point Lighthouse, situated on the south easternmost point of Africa, the trailheads for the beautiful sweep of the sandy beach of Cape St Francis where a blue drum marks the Cape St Francis Resort – your overnight stop. Proceed through the Resort to reception and they will take you to your room. Your treat for the day is a sunset cruise on the famous St Francis canals before dinner is served in the Joe Fish Restaurant – enjoy!
Accommodation: Cape St Francis Resort.
Meals: Breakfast, Lunch & Dinner. (Excludes drinks)
Day 6: Hiking Trail 13 km
You will continue your hike on the Cape St Francis beach towards Shark Point, where you often see tracks of the Cape Clawless Otter early in the morning. Around the point you will see Port St Francis, the working harbour which is most of the chokka fleet, hake and pilchard vessels as well as for sea-going yachts and leisure craft of all shapes and sizes. The local NSRI is also based here, doing sterling work off this very unpredictable coast. You will enjoy a tasting of calamari, hear more about the Chokka industry and see a chokka cleaning demo at Clive's Chokka Block. The hike continues on the Two Harbours Walk towards Granny's Pool. You have now reached the end of your Chokka Trail, which we celebrate at Bruce's Cafe, a small coffee shop inside an Ocean Museum. End of hiking Trail.
Accommodation: Cape St Francis Resort - Beach Break Garden Facing RoomBed and Breakfast
Meals: Dinner & Breakfast.
Day 7: Beach Holiday.
Accommodation: Cape St Francis Resort - Beach Break Garden Facing RoomBed and Breakfast
Meals: Dinner & Breakfast.
Day 8: Addo Elephant National Park Safari. Inter Resort Transfer.
2 Nights - Kuzuko Lodge - Addo Elephant National Park. - 4 Safaris. Kuzuko Lodge offers glorious views and vistas of the Addo Elephant National Park. Enjoy game drives through the private game reserve as well as incredible bush walks identifying local flora and fauna. The lodge offers an experience of five of the country's seven biomes (vegetation areas) with more than 300 species of birds and 600 species of plants. Enjoy spectacular views of the African sky through the lodges' star gazing telescope. Spectacular stargazing, day and night game drives, Trips to see Khoisan cave paintings and bird-watching are but a few of the ways in which you can truly experience a place so untouched by man. Late afternoon game drive.
Accomodation: Kuzuko Lodge - Double Luxury Chalet.
Meals included (Full Board)
Day 09: Addo Elephant Park Safari. Morning game drive Evening game drive.
Accomodation: Kuzuko Lodge - Double Luxury Chalet.
Meals included (Full Board)
Day 10: Departure.
Airport transfer.
Offer Includes
Return flights from London Heathrow
Airport taxes
8 nights accommodation as per Itinerary
Safari on Full Board (No drinks).
Beach Stay Bed & Breakfast.
Hiking Adventure
Transfers
Meal Plans