Grenada - True Blue Bay Boutique Resort
Grenada - True Blue Bay Boutique Resort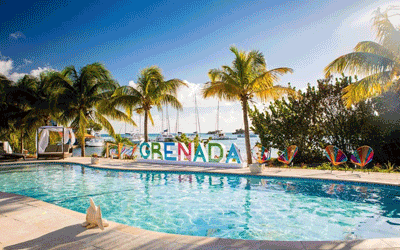 £1369
15 Nov 22
15 Nov 22
31 Oct 22

Deposit: £125 per person

Note: Total for 2 adults & 2 children (2-11yrs) - £5479

True Blue Bay Boutique Resort
Grenada is an unspoiled and beautiful group of tiny islands at the bottom of the Caribbean chain (the country also includes the islands of Carriacou and Petite Martinique). Colorful Saturday markets, year-round festivals and fairs, complimented by easy-going and friendly people, complete with a rich history and culture weave the tapestry of Grenada. Grenada has a staggering variety of plant and animal life including the plethora of tropical birds, tiny frogs and lizards, while rare orchids punctuate the dense rainforest. Crater lakes, mountain rainforests, dry forests and lowlands that lead to mangrove coasts and then onto brilliant white sandy beaches – Grenada has it all. These beautiful natural features are framed by sparkling blue waters and graceful coral reefs which help provide sand for the most famous beach of all beaches in Grenada, the Grand Anse Beach, as its smooth expansive beach stretches for two-miles and gently curves around to Grand Anse Bay.
Nestled among this Caribbean splendor on Grenada's south coast, you will find True Blue Bay Boutique Resort, a tranquil waterfront resort offering rooms, suites and villas neatly arranged on a hillside overlooking the water. The vibe here is bright, lively and family-friendly, with plenty of activities for guests of all ages. Buildings are colorful in vivid oranges, neon greens, and, of course, deep blues. There is no lack of areas to get your perfect holiday picture with all the quirky decorations around the property!
Hotel Facilities:
2 Restaurants, 1 Bar, 4 outdoor pools, 1 poolside bar
Recreational Facilities:
Full-service spa, Fitness centre, Computer station
General Facilities:
Free WiFi, Dry cleaning, laundry service
Offer Includes
Return flights from London Heathrow
Airport taxes
7 Nights Stay at True Blue Bay Boutique Resort in a 2 Bedroom Villa on Bed and Breakfast
Private Return Transfers
Meal Plans