Fabrica do Chocolate Hotel - Portugal
Fabrica do Chocolate Hotel - Portugal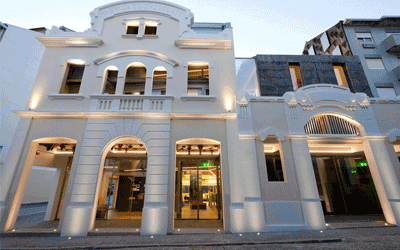 £339
16 Oct 23
16 Oct 23
10 Oct 23

Please Note:
✅Full Payment for Oct Deal
✅All other room types are available via request
✅Rates are available for 2024!
✅Based on 2 adults sharing - Family Rooms are available on limited Dates - Please give a range of dates for any Family Enquiries so we can source the closest available date.

Upgrade Options:
✅Superior Room 3 Nights Upgrade from £39pp
✅Superior Room 4 Nights Upgrade £59pp - Glasgow
✅(Superior Rooms are either Dali, Maya & Theobroma Cacao - Specific is Requested not Guaranteed)

Hotel Featured:
✅Fabrica do Chocolate 4*

Fabrica do Chocolate
Imagine a world made of chocolate, where kids and grown-ups explore the amazing universe of the "food of the Gods". A century-old building, where chocolate was once produced and from where a sweet aroma used to emerge all over the city, is today a newly restored building that keeps its history and memories alive, but with a new purpose. Today, the production is of unique experiences totally dedicated to chocolate. For you, looking for a different experience, we have created a Hotel, a Restaurant, and a Museum, totally dedicated to chocolate, so you can discover its origins, history, curiosities, and unforgettable flavors.

Why Fabrica do Chocolate?
✅Casual, unique rooms with chocolate-inspired designs feature flat-screen TVs and free Wi-Fi, as well as minifridges.
✅A sleek restaurant serves chocolate-based dishes. There's also a spa and an on-site museum featuring cocoa exhibits.
✅In the bathroom, you will find thematic amenities that include a soap that looks like a square of chocolate, shower gel, shampoo, and moisturizing cream with chocolate aroma as well.
✅A chocolate environment freshener ensures that in all rooms and public areas of the Hotel, the sweet tooth gets "inebriated" in the same way that the old chocolate factory did in the nearest building's streets
Prices & Departures:
Deposit: Full Payment for Oct Deal
Dept 16 Oct 23 X74435 Gatwick from £339pp
Dept 17 Oct 23 X74461 Manchester from £395pp
Dept 18 Oct 23 X74464 Bristol £409pp
Dept 13 Oct 23/4 Nights X74472 Glasgow £469pp
Dept 16 Oct 23 X77286 Edinburgh from £1069pp
Dept 16 Oct 23 X77296 Birmingham from £1065pp
Dept 16 Oct 23 X77300 Newcastle from £919pp
Dept 16 Oct 23 X77303 Belfast from £1105pp
Dept 16 Oct 23 X77310 Norwich from £955pp
Dept 16 Oct 23 X77322 Dublin from £555pp
How to Book:
CALL 0208 585 4020
Email holidays@travelpack.com

Terms & Conditions:
Based on 2 adults sharing, Subject to availability
Offer Includes
Return Direct Flights with Cabin Baggage (Hold Baggage for all that extra chocolate can be added on if required)
3 Nights at Fabrica Do Chocolate Hotel in a Standard Room on Bed & Breakfast basis (Standard Rooms are either Roca or Arcadia - Specific is Requested not Guaranteed)
Return Private Airport Transfers
Meal Plans