Experience Hampi And Deccan Heritage With Evolve Back Resorts
Experience Hampi And Deccan Heritage With Evolve Back Resorts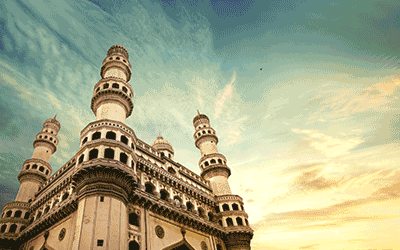 £4875
01 Oct 23
01 Oct 23
31 May 23
Highlights: Hyderabad - Hampi - Chikmagalur - Coorg - Kabini National Park - Bangalore

The USPs of this product:
Visit to Unesco World Heritage Monuments in Hyderabad , Hampi,Halebid & Belur
Visit Coffee Plantations at Chikmagalur
In Coorg :Guided Coffee plantations walk & guided bird watching trip and coracle
Explore Flora & Fauna of Kabini -National Park

deposit £- 450 pp
Hotel Featured:
Taj Deccan
Evolve Back Kamalapura Palace
Gateway Hotel
Evolve Back Chikkana Halli Estate
Evolve Back Kuruba Safari Lodge
Royal Orchid Central
Itinerary:
01 st Oct23: Sun London Heathrow to Dubai
02nd Oct23: Mon Dubai to Hyderabad
Arrive Hyderabad The name Hyderabad means Hyder derived from the Persian/Urdu According to John Everett-Heath, the author of Oxford Concise Dictionary of World Place Names, Hyderabad was named to honour the Caliph Ali Ibn Abi Talib, who was also known as Hyder because of his lion-like valour in battles. Hyderabad was historically known as a pearl and diamond trading centre, and it continues to be known as the City of Pearls. Many of the city traditional bazaars, including Laad Bazaar, Begum Bazaar and Sultan Bazaar, have remained open for centuries. Upon arrival at Hyderabad airport meet and assist and transfer to Hotel Rest of the day at leisure and Overnight stay at Hotel
03rd Oct 23: Tue Hyderabad
After breakfast enjoy sightseeing tour of Hyderabad city visiting Golkonda, also known as Golconda, Gol konda (Round shaped hills), is a citadel and fort in Southern India and was the capital of the medieval sultanate of the Qutb Shahi dynasty The Qutb Shahi Tombs are located in the Ibrahim Bagh (garden Precinct), close to the famous Golconda Fort. They contain the tombs and mosques built by the various kings o the qutb Shahi dynasty. Nizam & Museum located in Hyderabad at Purani Haveli, a palace of the erstwhile Nizams. Chowmahalla Palace (4 Palaces), is a palace of the Nizams of Hyderabad state. It was the seat of the Asaf Jahi dynasty and was the official residence of the Nizams of Hyderabad while they ruled their state. Drive pass Charminar constructed in 1591, is a monument and mosque located in Hyderabad. The landmark has become a global icon of Hyderabad, listed amount the most recognized structures of India The Salar Jung Museum is an art museum located at Dar-ul-Shifa, of the southern bank of the Musi River in the city of Hyderabad. It is one of the three National Museums of India Drive pass of Hussain Sagar Lake Overnight stay at Hotel
04th Oct 23: Wed Hyderabad to Hubli
Transfer from Hotel to Hyderabad airport in time to board flight for Hubli1050 Hrs Arrive Hubli airport Upon arrival at Hubli airport transfer to Hotel 1930 – 2000 Hrs : Story Corner Overnight stay at hotel
05th Oct23: Thu Hospet (Hampi)
Morning Virupaksha Trail – This trail begins with a leisurely walk up the Hemakuta hill, which opens up a treasure trove of pre-Vijayanagara temples, statues and the wondrous stories surrounding them. It will also serve you delightful views of the rock strewn landscape of Hiampi with its glorious sunsets. Stroll down to the centuries old Virupaksha Temple at the base of the hill. The holy temple of the early Kings of the Vijayanagara Empire in the 14 th century. The end of the trail is marked by the exquisite Krishna temple and the huge monolith of Narasimha. Afternoon The Raya Trail – This trail takes you back five hundred years and gives you a privileged peek at the life and times of the Rayas (Maharajas) of Vijayanagara. Learn about their lifestyle, culture, the unique social and political dynamics of the period and the magnificent structures of the royal city. Overnight stay at Hotel
06 th Oct 23: Fri Hospet (Hampi)
Morning visit Vitthalapura Walk – Hampi had many suburbs or puras. They were self-sufficient settlements centered around a temple and an attached marked denoting two of its core activities – worship and commerce. Explore the Vitthalapura Bazaar that leads to the famous Vijaya Vitthala temple considered by many to represent the pinnacle of temple architecture in India. This temple is renowned for its musical stone pillars and a chariot carved in stone. Afternoon Tungabbadra Trek - Enjoy an offbeat evening trek that takes you through giant boulders, the ruins of the Achyutaraya Temple and the famed 'Courtesan Bazaar'. Catch a splendid view of the setting sun behind the boulder hills as you walk along the banks of the scenic Tungabhadra River. Overnight stay at Hotel
07 th Oct 23: Sat Hampi to Chikmagalur
Leave Hampi for Chickmagalur is a forested hilly region set against a mountainous backdrop of the Western Ghats, and now famous for its coffee plantations, being the place where coffee was first grown in India. It also carries a long history. This charming hill station was the cradle of the powerful Hoysala Dynasty. Upon arrival at Chikmagalur check in at your hotel
08 th Oct 23: Sun Chikmagalur
Drive over to Belur and Halebid Belur and Halebid are UNESCO World Heritage sites. Halebid was the 12th century capital of the Hoysalas. The Hoysaleswara temple was built during this time by Ketamala and attributed toVishnuvardhana, the Hoysala ruler. Overnight stay at Hotel
09 th Oct 23: Mon Chikmangalur to Coorg
After breakfast check out from Hotel and drive from Chikmangalur to Coorg, a place that is known as the &Scotland of India& Upon arrival at Coorg, check in at Hotel
Afternoon Guided PLANTATION WALK (4-6 PM) Take a guided tour of the 300 acre working coffee and spice plantation on foot. Learn first hand the difference between an Arabica and Robusta, discover how the Malabar blend got 'monsooned', and explore the spice scented pathways of Evolve Back Chikkana Halli Estate to slip into the spirit of the land Evening Cultural Show (7:30-8 PM) Overnight stay at Hotel
10th Oct 23: Tue Coorg
Morning guided Bird Watching (7 – 9 AM) Coorg is an ornithologist's delight. And is every bit as entertaining and enlightening for the amateur birdwatcher too. Consider how Coorg alone accounts for over 25% of all bird species in India, and you get an idea of why birding at Coorg is so popular
COFFEEOLOGY (1200 – 1245 Hrs)
Coffeeology is a daily live session on the art and science of gourmet coffee held at the Sidapur Coffee & Culture Museum. At Coffeeology, visitors can observe and experience the making of an assortment of coffee preparations from around the world. Coracles are local fishing crafts that are circular and ideal for navigating these waters. The coracle ride on the river not only helps you to gauge the myriad moods of the river, but also gives you a fish-eye view of the surrounding forest and the habitation, and allows you to be a small part of the ebb and flow of riverine life.
PLANTATION 4×4 (1600-1700 Hrs)
A guided tour of the 100-year old coffee & spice plantation in a specially designed 4×4 Jeep. Experience the fabulous 300-acre Chikkana Halli Estate and learn the nitty gritty of coffee and
spice cultivation. Overnight stay at Hotel
11th Oct 23: Wed Coorg
ELECTRIC TRAILS
Explore the quaint villages adjacent to the resort on an eco-friendly electric cycle accompanied by an experienced Naturalist. One can choose between two different trails curated based on differing levels of difficulty.
WORKER'S TRAIL ( 1430 – 1530 Hrs)
Experience Plantation Life, first hand! Here's your chance to get into the shoes of a Plantation Worker, quite literally. Join the plantation workforce in the seasonal estate activities, that you would have at best, read about. From pruning coffee plants to harvesting ripe red coffee berries, get introduced into a whole new work culture, where human hands reign supreme. In the process, enhance your respect for that cup of coffee, that you take for granted Overnight stay at Hotel
12th Oct 23: Thu Coorg to Kabini by surface
Today after breakfast drive to Kabini next – a breath-taking drive away, and right into the heart of wildlife land, Get ready for life-changing moments during the wildlife safari at Nagarhole National Park, Upon arrival at Kabini, check in at hotel Afternoon shared Jeep Safari (1430 – 1900 Hrs) Evening Documentary on Wildlife (1930 – 2000 Hrs) Jungle Tales (2030 – 2130 Hrs) Overnight stay at Hotel
13 th Oct 23: Fri Kabini
Morning shared Jeep Safari (0545 – 1000 Hrs) Enjoy Bullock Cart Ride (1100 – 1115 Hrs) Afternoon shared Boat Ride (1530 – 1815 Hrs) Overnight stay at Hotel
14th Oct 23: Sat Kabini to Bangalore by surface
After breakfast check out from Hotel and drive from Kabini to Bangalore visiting Mysore Upon arrival at Mysore proceed to visit The Chamundi Temple- Overlooking Miser from the 1062 m summit of Chamundi Hill, the Sri Chamundeshwari Temple and monolithic Nandi (Bull) makes a pleasant half-day excursion. Pilgrims are supposed to climb the 1000-plus steps to the top, but those not needing to improve their karma go by car. The temple is dominated by a towering seven
Srirangapatnam - the 18th century Summer Palace of Tipu Sultan Sri Rangapatnam (16 km) is built on an island in the Cavern River is famous for the Ranganatha temple and the 'Summer Palace of Tip Sultan' Upon arrival at Bangalore, check in at hotel Overnight stay at Hotel
15th Oct'23: Sun Bangalore to Dubai
Transfer from Hotel to Bangalore airport in time to board flight for London Heathrow via Dubai
Excludes:
Travel insurance covering medical evacuation, hospitalization, air evacuation, baggage insurance and trip cancellation charges.
Passport fee, visa fee, fee for inoculations and health certificates.
Any optional trips or meals other than specified in the program.
Personal expenses such as alcohol & non-alcoholic beverages, telephone calls, tips & gratuities, laundry, room service etc.
Personal equipment like clothes, shoes, camera, daypack, personal medical kit etc.
Any exigency expenses caused by or liability for disturbance in trip program due to circumstances beyond our normal control such as train delays/ cancellation, road blocks, vehicle malfunctions, weather conditions, sickness, natural disasters, riots etc.
Offer Includes
Return flights from London Heathrow
Airport taxes
2 nights stay at Taj Deccan in a Double Room with Bed and Breakfast
3 nights stay at Evolve Back Kamalapura Palace in a Double Room with Half Board
2 nights stay at Gateway Hotel in a Double Room with Bed and Breakfast
3 nights stay at Evolve Back Chikkana Halli Estate in a Double Room with with Half Board
2 nights stay at Evolve Back Kuruba Safari Lodge in a Double Room with with Half Board
1 night stay at Royal Orchid Central in a Double Room with Bed and Breakfast
Entrance fees to the monuments
Services of Local English Speaking during city tour as per the itinerary
Activities as mentioned in the itinerary
2 safari by shared open Jeep
1 Shared Boat ride
Coracle Ride
Bullock Cart ride
Meal Plans