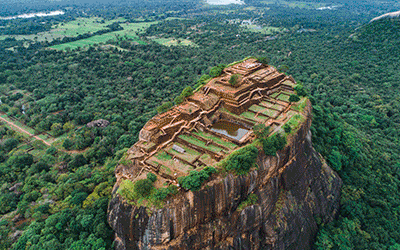 £1359
05 Oct 22
05 Oct 22
15 Sep 22
Highlights: Habarana - Sigiriya - Polonnaruwa - Kandy - Beruwala

Other Departures: Birmingham-£1499, Manchester-£1509, Glasgow-£1699

low deposit: £150 Per Person

Value additions during round tour:
•10% Discount on Food & Beverage
•10% Discount on Ayurveda & Spa

Hotels Features or Similar:
Habarana- Habarana village by cinnamon
Kandy- Amaya Hills
Beruwala- Cinnamon bay

Sri Lanka
Sri Lanka is a lush, tropical island paradise, known to Arab traders as Serendib – hence "serendipity", meaning discovery by happy accident. Set in the Indian Ocean in South Asia, the tropical island nation of Sri Lanka has a history dating back to the birth of time. It is a place where the original soul of Buddhism still flourishes and where nature's beauty remains abundant and un-spoilt.

There are 8 world Heritage sites in Sri Lanka. The 3 ancient and magnificent cities of Anuradhapura, Polonnaruwa and Sigiriya were inscribed in the UNESCO World Heritage list in 1982 followed by Galle, Kandy, and the Sinharaja Forest Reserve in 1988. The Golden Temple of Dambulla in 1991 and finally the Central highlandswereaddedin2010. These places of historical and natural significance are not to be missed for any visitor to Sri Lanka.

Having a history marked by four centuries of colonial rule, the country still manages to safeguard remnants from the past in their original grandeur. Some of them are renowned historic sites are the Galle Fort built originally by the Portuguese, Colombo Harbor and the ancient city of Polonnaruwa all confirm Sri Lanka's ancient and colorful past. The rock temple of the Buddha, Gal Vihara is one of the finest examples of the religious heritage. Temples play an important part in everyday life and a visit to one should be a must for all visitors.
Itinerary:
Day 1: Airport / Habarana
Upon your arrival at Colombo International airport, you will be warmly welcomed by one of our representatives and then you will be transferred to the hotel in an air-conditioned vehicle.(Approximate travel time from Airport to Sigiriya– 04 - 05 Hrs.)(STANDARD CHECK-IN IS AT 1400HRS. EARLY CHECK-IN IS SUBJECT TO AVAILABILITY ON THE DAY OF ARRIVAL)
Dinner & Overnight Accommodation at Habarana Village by Cinnamon
Day 2: Sigiriya (Breakfast)
Today after breakfast proceed to visit Sigiriya Rock Fortress. Proceed to climb the Sigiriya Rock Fortress which is known as the 8th wonder of the world. This rock fortress was built by King Kasyapa in the 5th century A.D. and was a royal citadel for more than 18 years. In a sheltered a pocket, approached by a spiral stairway, are the famous frescoes. The summit of the rock, with an area of nearly one hectare was the site of the palace and the outer wall was built on the very brink of the precipice. The UNESCO sponsored Central Cultural Fund has restored Sigiriya 5th century water gardens to their former glory. On completion proceed to Kaudulla National Park
(Approximate travel time from Sigiriya to Kaudulla – 01 – 01 ½ Hrs.)
This is Sri Lanka's newest national park, wildlife reserve and eco-tourism attraction. Situated around the ancient Kaudulla tank, the national park provides a 6656-hectare elephant corridor, only 6 km from off the main Habarana - Trincomalee road. With fantastic opportunities to see many elephants at close range, the park has become a popular destination for wildlife safaris that also take in leopards, sambar deer and the occasional sloth bear! As an additional novelty, you can go for cataraman rides on the tank. On completion proceed back to the hotel and relax.
Dinner & Overnight Accommodation at Habarana Village by Cinnamon
Day 3: Sigiriya / Polonnaruwa / Sigiriya (Breakfast)
Today after breakfast proceed to Polonnaruwa historical site. (Approximate travel time from Sigiriya to Polonnaruwa – 1 ½ Hrs – 02 Hrs.)
The architect of this lovely city is known to be King Parakrama Bahu - The Great. The remains of the Royal Citadel council chamber, prince's bathing pool and the Gal Vihare, a stone temple with its colossal sculptures of the Buddha in a quiet grove of trees as well as the still functioning Parakrama Samudra, a man-made reservoir, larger than our Colombo harbor, are on easy distance from each other. The new museum has an excellent scale model of the ancient city as it was. On completion proceed back to the hotel and relax.
Dinner & Overnight Accommodation at Habarana Village by Cinnamon
Day 4: Sigiriya / Kandy (Breakfast)
Today after breakfast stay at leisure and check-out form the hotel around 11 am and proceed to Kandy.
(Approximate travel time from Sigiriya to Kandy – 2 ½ – 03 Hrs.)
Kandy is a large city in central Sri Lanka. It's set on a plateau surrounded by mountains, which are home to tea plantations and biodiverse rainforest. The city's heart is scenic Kandy Lake (Bogambara Lake), which is popular for strolling. Kandy is famed for sacred Buddhist sites, including the Temple of the Tooth (Sri Dalada Maligawa) shrine, celebrated with the grand Esala Perahera annual procession. Check in to the hotel and relax.
Dinner & Overnight Accommodation at Amaya Hills
Day 5: Kandy (Breakfast)
Today after breakfast proceed to visit Royal Botanical Garden Royal Botanic Gardens, Peradeniya are about 5.5 km to the west of the city of Kandy in the Central Province of Sri Lanka. In 2016, the garden was visited by 1.2 million locals and 400,000 foreign visitors. It is near the Mahaweli River. It is renowned for its collection of orchids. On completion visit Temple of the Tooth.
Temple of the Sacred Tooth Relic; is a Buddhist temple in Kandy, Sri Lanka. It is located in the royal palace complex of the former Kingdom of Kandy, which houses the relic of the tooth of the Buddha. On completion proceed back to the hotel and relax.
Dinner & Overnight Accommodation at Amaya Hills
Day 6: Kandy / Beruwala (Breakfast)
On completion proceed to Beruwala for the beach stay. You will stay until your departure.
(Approximate travel time from Kandy to Beruwala – 03 to 04 Hrs.)
Dinner & Overnight Accommodation at Cinnamon Bay Beruwala or similar
Day 7: Beruwala (Breakfast)
Enjoy the stay at the resort indulging in all comforts at the hotel.
*Chauffeur and the vehicle will not be available during the beach stays.
Dinner & Overnight Accommodation at Cinnamon Bay Beruwala or similar
Day 8: Beruwala / Airport
As per the flight details, you will be transferred to the Colombo International Airport to catch your flight back home with all the happy memories.(STANDARD CHECK - OUT IS AT 1200HRS. LATE CHECK- OUT IS SUBJECT TO AVAILABILITY ON THE DAY OF DEPARTURE) (Approximate travel time from the Beruwala to Airport – 01 1/2 – 02 Hrs.)
Package Excludes:
-Any meals not mentioned in the inclusions list.
-Expenses of personal nature.
-Cost of optional excursions
-Cost of beverages throughout the tour
-Tips and Portages
-Visa processing fee

                                                          We look forward to greeting you soon!
                                                                    - End of Tour -
PLEASE NOTE THAT THE ABOVE OFFER AND THE PROGRAM IS DONE TAKING IN TO CONSIDERATION THE PREVAILING SRI LANKAN HEALTH PROTOCOLS AND PROCEDURES. HOWEVER IN CASE OF A CHANGE OF THESE PROCEDURES WE ARE COMPELLED TO DO THE REQUESTED CHANGES TO THE PROGRAM / SITES AND ACCOMMODATION (AT AN EXTRA COST IF REQUIRED)
Offer Includes
Return flights from London Heathrow
Airport taxes
Accommodation in hotels specified in the itinerary or in hotels of a similar standard
Meal plan as mentioned on the above table.
Round tour with an English-speaking chauffeur guide. (no chauffeur guide or vehicle during the beach stay)
Departure transfer from Beruwala to airport
Entrance fees
Sigiriya Rock Fortress
Kaudulla National Park / Minneriya National Park
Royal Botanical Garden, Peradeniya
Temple of the Tooth
All applicable current local taxes, but subject to change at the time of booking
Meal Plans