Cultural & Heritage Tour of Rajasthan
Cultural & Heritage Tour of Rajasthan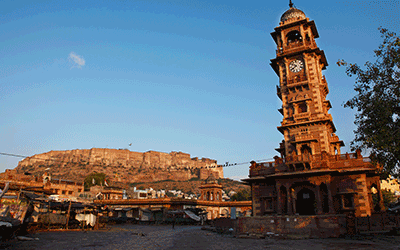 £3499
01 Oct 20
09 Dec 20
31 May 20

Minimum deposit required - £280pp
Highlights: Delhi - Agra - Jaipur - Jodhpur - Udaipur - Delhi
Alternate travel dates: 16 Jan 21 - 31 Jan 21
Hotels:
Delhi - The Claridges
Agra - Trident Hotel
Jaipur - Trident Hotel
Jodhpur - Ajit Bhawan
Rawla - Rawla Narlai
Udaipur - Trident
Delhi - Radisson Blu
Includes:
• Food Walk at Agra
• Food Walk at Old Delhi
• Train Safari for 02 Hrs
• 1 Dinner at Step Well at Narlai
• Cycle Rickshaw ride at Old Delhi
• Tuk Tuk ride at Old city of Jodhpur
• Jeep joy ride at Amber Fort, Jaipur
• Countryside Jeep Safari 2 and Half Hrs
• Common boat ride at Lake Pichola Udaipur
• Train fare for the sector Jaipur / Jodhpur by air-conditioned chair car
Itinerary:
Day 01 - London Heathrow to Delhi by flight:
Day 2: Delhi
Arrive at Delhi airport. Upon arrival at Delhi airport welcome, meet and assist by our representative and transfer to Hotel. Afternoon you will proceed for 3-4 Hrs food walk through the old city to enjoy the local hygienic food. We visit 4-5 different food places and taste authentic local street food. Overnight stay at Hotel.
Day 3: Delhi
Morning city tour of Old Delhi visiting Raj Ghat which is located on the banks of the river Yamuna, This is Mahatma Gandhi's Memorial, where he was cremated following his assassination in January 1948. The memorial lies in the midst of landscaped gardens and made of a simple square platform of black marble inscribed with his last words "Hey Ram". Drive Pass Red Fort (closed on Monday) – the 17th-century imposing fortress built in red sandstone is surrounded by a huge boundary wall 33m high. Inside are exquisite palaces and beautiful gardens. Board the 'cycle rickshaw' for a unique experience from the Red Fort, through "Chandni Chowk" or Silver Street, experiencing the sights and sounds of this very busy avenue-heading west from the Fort. Opposite the Red Fort lies Jama Masjid (Friday Mosque) made of red sandstone and white marble, completed in 1656. It is India's largest mosque where more than 20,000 people can kneel in prayer at one time.
New Delhi visiting Humayun's Tomb, built by his wife Haji Begum in the 16th Century. An early example of Mughal architecture considered the predecessor of the Taj Mahal.
The Qutab Minar - the landmark of Delhi, a huge tower of victory started in 1199 and completed in 1368. The Minar is 72.5m high with a diameter at the base 14.4m and 2.7m at the top. Proceed to the Rashtrapati Bhawan (Drive Pass) once the Viceroy's residence and now the official residence of the President of India. Designed by Lutyens, it combines western and eastern styles - the dome reflects the Buddhist stupa, the chhatris "Hindu" and the graceful colonnades very "British". It has 340 rooms. The India Gate (42m), C commemorates the 70,000 Indian soldiers who died in the 1st world war. 13516 names of British and Indian soldiers killed in the Afghan War of 1919 are engraved on the arch and foundations. Under the arch, glows the Amar Jawan Jyoti flame commemorating Indian armed forces' losses in the Indo-Pakistan war of 1971. Overnight stay at Hotel.
Day 4: Delhi to Agra by surface (Approx. 210 Kms, 4 Hrs)
After breakfast check from Hotel and drive from Delhi to Agra – a medieval city on the banks of the Yamuna River. It was founded by Sultan Sikandar Lodi in the year 1506. Agra achieved fame as the capital of the Mughal emperors from 1526 to 1658 and remains a major tourist destination because of its many splendid Mughal-era buildings. Most notably the Taj Mahal, Agra Fort and Fatehpur Sikri, all three of which are UNESCO World Heritage Sites. Upon arrival at Agra, check-in at Hotel.
Afternoon you will enjoy AGRA STREET FOOD WALK -  
A visit to Agra is incomplete without tasting its delightful local cuisine. This food walk of Agra will help you taste delicious street food dishes of varied Indian cuisines available from some of the oldest and most reputed food joints in the city. All the food items have been personally tested and are as safe as possible. It is a walking tour of Agra city in which you will visit walk around some non-touristy markets of Agra city and taste some of the best local food dishes. The food served in this food walk is equivalent to one meal plus various snacks served during a duration of 3-4 hours. We visit around 7-9 different food places and taste the authentic local street food of Agra and a full meal for dinner. This food walk can be enjoyed by vegetarians as well as non-vegetarians.
• Unlimited food and non- alcoholic drinks during the tour.
• Bottled water, wipes, sanitizer, etc.
Overnight stay at Hotel.
Day 5: Agra
After breakfast visit Taj Mahal the world-famous monument Taj Mahal (Closed on Fridays) – Overlooking the River Yamuna, the Taj Mahal is a classic example of Mughal architecture, with the Taj itself built as a mausoleum at the northern end of an extensive formal walled garden designed in the charbagh style and structured on the Islamic theme of 'paradise'. The whole site was built by Shah Jahan between ad 1632 and 1653 as the final resting place of his favorite wife Arjumand Bann Begum (also known as Mumtaz Mahal) who died in ad 1631 shortly after giving birth to their fourteenth child. Upon his death in ad 1666, Shah Jahan was buried alongside his wife in the Taj.
Agra Fort – Agra Fort was originally a brick fort and the Chauhan Rajputs held it. It was mentioned for the first time in 1080 AD when a Ghaznavide force captured it. Sikandar Lodi (1487-1517) was the first Sultan of Delhi who shifted to Agra and lived in the fort. He governed the country from here and Agra assumed the importance of the second capital. He died in the fort in 1517 and his son, Ibrahim Lodi, held it for nine years until he was defeated and killed at Panipat in 1526. He built several palaces, wells and a mosque in the fort during his period.
Itmad –Ud-Daulah Tomb also called "Baby Taj" has a special place in the chronicles of both history as well as architecture. This is precise because Itmad ud Daula is the very first tomb in India that is entirely made out of Marble. This is actually a mausoleum that overlooks the River Yamuna and is a tomb of Mir Ghiyas Beg, a minister in the court of Shah Jahan.
Evening enjoy the sunset view of Taj Mahal from Mehtab Bagh - The Garden complex, situated on the opposite bank of the Taj Mahal, is known as Mehtab Bagh
Overnight stay at Hotel
Day 6: Agra to Jaipur by surface (Approx. 265 Km, 6 Hrs)
After breakfast check out from Hotel and drive from Agra to Jaipur - Founded in 1727 by Maharaja Sawai Jai Singh - II, the ruler of Amber, Jaipur was the first planned city in India. This town is also referred to as Pink city for the color of buildings in its wonderful old city. The city was painted pink to honor the visit of Prince Albert of England in 1882.
En-route visit Fatehpur Sikri - which is a beautiful and deserted medieval city, built by Mughal Emperor Akbar the Great in the 16th century to serve as the capital of his vast empire. It was mysteriously abandoned 13 years later. Today, it is perfectly preserved as a ghost city built at the height of the empire's splendor. Upon arrival at Jaipur, check-in at Hotel. Overnight stay at Hotel.
Day 7: Jaipur
This morning excursion to the Amber City Fort situated 130m high with the Aravalli hills around and 11 km north of Jaipur.
Afternoon enjoy the city tour visiting. The Maharajah's City Palace – A delightful blend of Mughal and traditional Rajasthani architecture, the City Palace sprawls over one-seventh of the area in the walled city. It houses the Chandra Mahal, Shri Govind Deve Temple, and the City Palace Museum.
Jantar Mantar – This is the largest and best-preserved of the five observatories built by Jai Singh II in different parts of the country.
Hawa Mahal – The ornamental facade of this "Palace of Winds" is a landmark in Jaipur. Its five-story structure of pink sandstone encrusted with fine tellies work and balconies has 953 inches and windows. It was built in 1799 by Pratap Singh and was a royal grandstand for palace women.
Johari Bazaar – The main bazaar is in the old city for jewelry and saris.
Overnight stay at Hotel
Day 8: Jaipur to Jodhpur by train:
Transfer from hotel to Jaipur railway station in time to board the train for Jodhpur, Arrive at Jodhpur railway station.
Upon arrival at Jodhpur railway station transfer to the hotel. Jodhpur - founded in 1459, Jodhpur is referred to as Sun City for its bright & sunny weather. It is also termed as Blue city for it blue whitewashed houses around Mehrangarh Fort. In the evening enjoy A Heritage tour by Tuk Tuk in the Old City, Jodhpur. Overnight stay at Hotel.
Day 9: Jodhpur
After breakfast proceeds for city tour Jodhpur Mehrangarh Fort - located atop a 125 m high hill. The magnificent Mehrangarh Fort is the most majestic and one of the largest forts in India. The construction of the fort started in 1459. The walls of the fort are up to 36 m high and 21 m wide; they enclose some exquisite structures. The fort museum houses an exquisite collection of palanquins, howdahs, royal cradles, miniatures, musical instruments, costumes, and furniture. The rampart of the fort not only has excellently preserved cannons but also gives a breathtaking view of the city. Kipling once remarked, the fort seems to have been built by giants and not by ordinary people.
Also, visit Jaswant Thada – an architectural landmark. It is a white marble memorial built-in 1899 in memory of Maharaja Jaswant Singh II. The monument, in its entirety, is built out of intricately carved sheets of marble. These stones are extremely thin and polished so that they emit a warm glow when the sun's rays dance across their surface. Within this cenotaph, there are also two more tombs.
Umaid Bhawan Palace – one of the fascinating palaces of Jodhpur, Maharaja Umaid Singh constructed in20th Century. A part of the palace has now been converted into a hotel and a museum. Stepwells are wells or ponds in which the water is reached by descending a set of steps. They may be covered and protected and are often of architectural significance. The Stepwell ensures the availability of water during periods of drought. The stepwells had social, cultural and religious significance. Overnight stay at Hotel.
Day 10: Jodhpur to Rawla Narlai by surface (Approx. 130 Kms, 3-4 Hrs)
After breakfast drive to Rawla Narlai, there is a palpable sense of detachment from the outside world. Situated in Rajasthan midway between Jodhpur & Udaipur, it exudes an unmistakable, inimitable experience that has become to be a signature of this 17th century "villa".
Upon arrival at Rawla Narlai, check-in at Hotel. Dinner at the stepwell.
Have you ever thought of enjoying a dinner at the stepwells of the ancient times, constructed by some ruler in his times? If no, then Rawla Narlai is your destination to plan for! You can taste the authentic flavor of Rajasthani royalty and hospitality at 16th century-old Baoli, also known as Stepwell. You can gather in the courtyard, enjoy a drink with the royal residents who will tell you about the tales and rich history of the locals and the heritage. You can also adorn yourself with traditional scarf and turbans or travel via bullock carts that are arranged at the hotel for the guests. Overnight stay at Hotel.
Day 11: Rawla Narlai
Morning enjoy Train safari (02 Hours) A historic ride through Aravali mountains. Board train at Khamlighat to Phulad
Evening enjoy Countryside Safari Jeep Safari (2 ½ hours' drive.) A life as colorful as the rainbow and equally captivating in the surrounding village, some interesting temples and agriculture experiences which are worth a visit. A guided safari in an open Jeep. Overnight stay at Hotel.
01st Mar'20 Sun Rawla Narlai to Udaipur by surface (Approx. 150 Kms, 3 Hrs)
After breakfast drive to Udaipur lies in a valley, amidst green hills on the banks of Lake Pichola. Along the shores of the lake is the palace of the Maharana. Within the palace, view peacocks in mosaic on the walls, floors inlaid with tiles of rare beauty and roof gardens. En-route visit the tranquil pilgrimage town of Ranakpur, renowned for some marvelously carved Jain temples. Upon arrival at Udaipur, check-in at the hotel. Overnight stay at Hotel.
Day 12: Udaipur
After breakfast you will enjoy the city tour visiting City Palace - The city palace was built in 1725 with various palaces inside it such as Dilkush Mahal, the palace of Krishan Moti Mahal, Sheesh Mahal all ornately decorated. The museum in City Palace contains incomparable historic and artistic heritage which dates back to 14 century, Jagdish Temple – Dedicated to Vishnu, the preserver, this temple was built by Maharana Jagat Singh in 1651, Saheliyon Ki Bari – The Garden of the Maids of Honour, a most serene place in Udaipur, designed by Maharana Fateh Singh. It consists of beautiful lawns, gardens, and fountains, a retreat for the ladies of the household, Rana Pratap Smarak, & Sajan Niwas Gardens - Overlooking the Fateh Sagar is the Moti Magri (Pearl Hill) on which is a statue of Maharana Pratap on his famous horse Chetak. The local guide claims that he jumped an abyss of extraordinary width in the heat of the battle even after losing one leg! The path to the top winds through some attractive gardens. Afternoon enjoy the Boat ride on Lake Pichola. Lake Pichola - The beautiful Lake Pichola derives its name from a nearby village Picholi. Udai Singh built a dam and from then the lake has become a meeting place for more than two hundred species of migratory and resident birds. Overnight stay at Hotel
Day 13: Udaipur to Delhi by flight:
Transfer from Hotel to Udaipur airport in time to board flight for Delhi, Arrive at Delhi airport. Upon arrival at Delhi airport transfer to the hotel. Rest of the day at leisure and Overnight stay at Hotel.
Day 14: Delhi to London Heathrow :
Transfer from Hotel to Delhi airport in time to board flight for London Heathrow
Offer Includes
Flights from London Heathrow with British Airways
Domestic flight for the sector UDR / DEL by Air India in Economy Class
Airport Taxes
13 Nights Accommodation on Bed & Breakfast basis
All transfers, sightseeing and excursion as per Itinerary by Air Conditioned Car
Services of Local English Speaking Guide As per the Itinerary during city tour
Entrance fees to the monuments as per the itinerary
Meal Plans