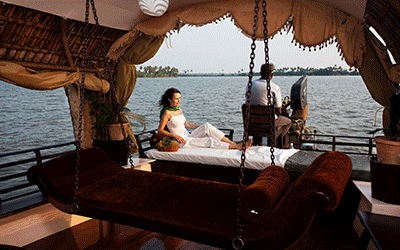 £2399
01 Oct 20
09 Dec 20
31 May 20

Highlights: Kollam - Cochin - Periyar - Kumarakom - Alleppey - Mararikulam
Hotels or similar: 
Kovalam - Uday Samudra
Cochin - Crowne Plaza
Periyar - The Elephant Court
Kumarakom - Lakesong
Backwaters - Houseboat
Marari - Abad Turtle
Itinerary:
Day 01: London Heathrow to Dubai by flight
Day 02: Dubai to Trivandrum by flight
Trivandrum to Kovalam by surface. Arrive at Trivandrum airport. Upon arrival at Trivandrum airport, welcome meet and assist by our representative and drive to Kovalam is a golden sand virgin beach on the Malabar Coast of Kerala and is amongst the most prominent beach holiday spot of the world. Rest of the day at leisure and Overnight stay at Hotel.
Day 03: Kovalam
Day at leisure and Overnight stay at Hotel.
Day 04: Kovalam to Cochin by surface (Approx. 230 Kms, 5 Hrs)
After breakfast check out from Hotel and drive from Kovalam to Cochin – the Gateway to Kerala was once an important spice-trading route on the Arabian Sea where Vasco D Gama landed in 1498 and boasted that he has come for soul and spices. Cochin is virtually the spice capital of the world from where Portuguese were exporting 10,000 kilos of spices to east-indies and other countries and has derived its name from Calico-the famous fabric manufactured in this town. Cochin also forms the part of the emerald isle of India. Harbour Cruise of Cochin is very much popular. With one of the finest natural harbors in the world, Cochin was once a major center for commerce and trade with the British, Arabs, Chinese, Portuguese, and Dutch, etc.
Upon arrival at Cochin, check-in at the hotel
Rest of the day at leisure and Overnight stay at Hotel
Day 05: Cochin
Morning proceed to visit the Dutch Palace (Closed on Friday) – The place has a fine collection of mural paintings depicting the scenes from the Hindu epics Mahabharata & Ramayana, Jewish Synagogue (Closed on Friday & Saturday) – the oldest synagogue in the world is magnificently decorated by Chinese tiles and Belgian chandeliers, was built in 1568. St. Francis Church: is the oldest church built by Europeans in India & Huge, elegant Chinese fishing nets that line the tip of Fort Kochi. Evening you will Witness the Kathakali Dance Show. Kathakali is the classical dance-drama of Kerala dates from the 17th century. Kathakali recitals are drama and are danced with elaborate mask s and costumes. They are emotive and narrative, while other dance forms have either one of them. The dancers use their stunning costumes and make-up, with the accompaniment of drums and vocalists, to create various moods and emotions.
Overnight stay at Hotel.
Day 06: Cochin to Periyar by surface (approx. 195 km, 5 hrs)
After breakfast travel by road to Periyar - The scenic drive takes you through green hills with forests, plantations of tea, spices and rubber, streams and waterfalls. Upon arrival at Periyar, check-in at your Hotel. Overnight stay at Hotel.
Day 07: Periyar
In the morning take a boat ride on the lake in the Periyar National Park, a 'Project Tiger' reserve. A boat ride is the only way to observe closely the giant of Periyar – Elephants and Gaurs (The giant Indian Bison) without disturbing them on their way (Subject to availability). In the afternoon visit plantations of tea, cardamom, and pepper
Overnight stay at Hotel.
Day 08: Periyar to Kumarakom by surface (approx. 135 km, 3 hrs)
Today you'll leave just after breakfast driving back down to the coast and the melodically named town of Kumarakom on the banks of Lake Vembanad. Upon arrival at Kumarakom, check-in at Hotel. Rest of the day at leisure and Overnight stay at Hotel.
Day 09: Kumarakom
This morning enjoy visiting Kumarakom Bird Sanctuary located on the banks of the Vembanad Lake, the bird sanctuary is spread across 14 acres. A visit to the bird sanctuary, set within the lush acres of wooded land nearby, acquaints you to the variety of migratory birds that flock in thousands, some from the Himalayas, some even from as far as Siberia. The main attractions are local birds like the waterfowl, cuckoo, owl, egret, heron and the water duck, as well the migratory Siberian cranes. Parrots, teal, larks, flycatchers, wood beetle, and other birds are seen here during their respective migratory seasons. And visit local villages. Overnight stay at Hotel.
Day 10: Backwaters
Breakfast at the hotel. Noon checks out from hotel and transfers to Alleppey boat jetty to embark houseboat – The Kettuvallam - the typical House Boats. Houseboats are traditional country boats, which used to carry tons of cargo in the backwater region in ancient times, have now been converted with one or two bedrooms with attached bath, kitchenette and a sitting area. (Lunch and Dinner). Overnight on board
Day 11: Alleppey to Marari by surface
Today, after disembarking houseboat and drive to Marari Beach, is barely town, this sleepy little village (also called Mararikulam), is an idyllic location for a vacation. Upon arrival at Mararikulam, check-in at hotel. Rest of the day at leisure and Overnight stay at Hotel.
Day 12 to 14: Mararikulam
All days at leisure and Overnight stay at Hotel.
Day 15: Marari to Cochin by surface (Approx. 60 Kms, 1-2 Hrs)
After breakfast drive to Cochin. Upon arrival at Cochin, check-in at Hotel. Rest of the day at leisure and Overnight stay at Hotel.
Day 16: Cochin to Dubai by flight
Dubai to London Heathrow by flight. Transfer from Hotel to Cochin airport in time to board flight for London Heathrow via Dubai.
Offer Includes
Flights from London Heathrow with Emirates
Airport taxes
11 nights accommodation on Bed & Breakfast Basis
1 night accommodation on Full Board basis at Houseboat
All transfers, sightseeing and excursions by private air-conditioned car
Entrance fees to the monuments
Services of local English speaking guide as per the itinerary during city tour of Cochin
Kathakali dance show in Cochin
Boat ride at Lake Periyar
One Day visit plantations of tea, cardamom, and pepper
Meal Plans