Breathtaking Hua Hin & Bangkok Getaway
Breathtaking Hua Hin & Bangkok Getaway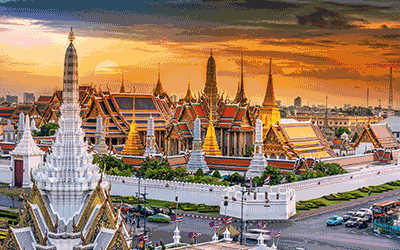 £3099
18 Jan 24
18 Jan 24
31 Dec 23

Deposit: £125 per person
Other Departures: Manchester - £2875 per person, Glasgow - £2945 per person, Edinburgh - £3029 per person, Newcastle - £2945 per person
Hotels Featured:
Anantara Riverside Bangkok Resort
Anantara Hua Hin Resort
Itinerary:
Fri 18 Jan 24 : Bangkok
Flight from London Heathrow Airport, to Bangkok Suvarnabhumi Airport, Thailand
After arrival transfer from airport to hotel Anantara Riverside Bangkok Resort for 3 Nights
Sun 21 Jan 24: Grand Palace with City Tour half day
Discover the Royal Grand Palace, an astonishing 60-acre (25-ha) Bangkok landmark that features spectacular Thai architecture. Tour the complex's temples and pagodas, including magnificent Wat Phra Kaew-the Temple of the Emerald Buddha, Wat Pho also known as the temple of the reclining Buddha and Finish your tour in Wat Traimit, a massive gold Buddha of 5.5 tons in china town. Get picked up from your and head toward the official residence of the Kings of Siam and Thailand-the Royal Grand Palace, built in 1782. Your guide shares insight into the architectural styles and Thai decorative techniques on display in the riverside compound. Cross the lawns and courtyards to reach Wat Phra Kaew. Regarded as the most sacred temple in Thailand, this temple's main building houses the 26-inch-tall (66-cm) Emerald Buddha, an astonishing, centuries-old statue carved from one large piece of jade. The Buddha's gold outfits are changed by the king during a special ceremony at the start of each new season to bring good fortune to the country.
Next, roam the complex of the Grand Palace with your guide, admiring the proud golden domes, inspirational spires, mosaics of glass or porcelain, and exotic, richly carved wall murals. Depending on religious ceremonies and royal visits, you might even be able to enter the Coronation Hall and Royal Funeral Hall before leaving, making a stop to shop at the Gems Gallery.
From there, continue on to Wat Pho, the grand royal temple complex that holds a (151-foot) 46-m Reclining Buddha. One of Bangkok's oldest temples, Wat Pho was designated as a royal monastery during the reign of King Rama I. Hear about the temple's role as a place of education for the public as you explore its pavilions and halls. Wat Pho Temple is also known to be the craddle of Thai Massage and has been rewarded with the UNESCO Memory of the World Award in 2008. Finish your adventure before heading back to your hotel with a ride through the city streets in direction of Wat Traimit, a temple whose gilded exterior houses the world's largest solid-gold Buddha statue. Weighing 5.5 tons and measuring 10 feet (3 m) tall, this seated sculpture is believed to have been made back in the 13th or 14th century.
Meeting Point
Pick up is available from most centrally located Bangkok hotels. Please arrange pick up from your hotel or a nearby location when you call to confirm your reservation. Please be ready and waiting in your hotel lobby 15 minutes prior to your scheduled pick up time.
Mon 22 Jan 24: Private Transfer Hotel to Hotel Anantara Hua Hin Resort for 7 Nights
Thu 25 Jan 24: Petchaburi Tour Include Lunch
Half Day - Morning Tour PVT
Petchburi a charming historic town sitting astride the main road to southern Thailand has a number of temples with strong connections to the former capital of Ayuthaya. Some of the best examples of Ayuthaya is mural paintings can be found here. The glorious palace now a national museum which sits on a hilltop overlooking the town is a breath-taking place to visit.
Our tour of one of Thailand is oldest provinces starts at the fresh market where you can see many kinds of ingredient of Thai-Food and also fresh fruits. Then continue to the center of Petchburi to the unmistakable Prang (Khmer-style tower monument) of Wat Mahathat. It is nonetheless stylistically influenced by the Ayuthaya period and its architectural interest belies its comparative lack of years .The towering central Prang rises from the middle of a cloister lined with Buddha images and is surrounded by smaller Prangs each with a small chapel.. At Phara Nakhonkhiri we continue our journey by cable car to the beautiful summer palace of King Rama IV also the setting of the famous movie The King and I. We see the royal heritage in the palace museum and admire the spectacular view from the observatory. Our journey continues to Khao Luang Cave which houses not less than 170 Buddha images.From there we visit a stucco-art-decorated temple.We have lunch before transfer back to the hotel.
Inclusions
Minivan
Entrance Fee
English Speaking Guide
Lunch
Mon 29 Jan 24: Departure
Offer Includes
Return flights from London Heathrow
Airport taxes
3 nights stay at Anantara Riverside Bangkok Resort 5* Deluxe Room Bed & Breakfast
Grand Palace with City Tour - Half Day
Inter-resort transfer to Hua Hin
7 nights stay in Anantara Hua Hin Resort 5* Premium Room Garden View All Inclusive
Phetchaburi Tour including Lunch
Return private airport transfers
Meal Plans