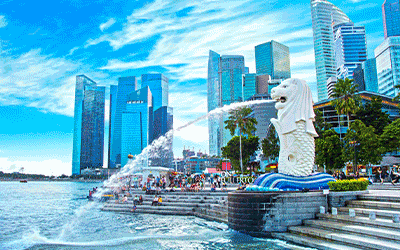 £2929
09 Jun 24
09 Jun 24
31 Oct 23

Highlights: Singapore - Seoul - Tokyo - Kyoto
Upgrade Options:
SINGAPORE:
✅Night Safari Ticket £36pp
✅Singapore Gardens by the Bay Tour from £87pp
✅UNESCO Street Food / Cultural Experience £115pp
SEOUL:
✅DMZ Full day with Gloucester Memorial & Suspension Bridge Tour £65pp
✅Mount Seorak + Nami Island + Garden of Morning Calm Day £78pp
✅10 Tastings of Seoul With Locals: Private Street Food Tour £110pp
TOKYO:
✅Tokyo Bar Hopping Night Tour in Shinjuku from £85pp
✅Tokyo Skytree Admission Ticket (Floor 350 + 450) £13.50pp
✅Akihabara Private Anime & Gaming Food Tour Tailored To Your Taste £135pp
KYOTO:
✅Kyoto and Nara 1 Day Trip - Golden Pavilion and Todai-ji Temple £127pp
✅Authentic Kyoto Tea Ceremony: Camellia Flower Teahouse £19pp
✅Samurai & Ninja Museum Ticket £24pp
Hotels Featured:
Hotel Miramar, Singapore
Courtyard by Marriott Seoul Times Square
Hotel Monterey Ginza
Mercure Kyoto Station
Hotel Miramar, Singapore
Hotel Miramar Singapore is a hotel which prides itself on our impeccable hospitality. The well-equipped hotel focuses on modern comfort living, the deliverance of impeccable friendly service and is situated at an unequaled prime location. Whether you're here on business, leisure with family and friends or purely for a new experience, you'll find your every need well taken care of.The hotel is equipped with 342 spacious rooms and suites which have recently undergone refurbishments and upgrades. The rooms and suites are designed with a light, neutral beige palette which enhances the cosiness of the room. Your comfort is a priority to us and we have ensured that each room is spacious for your stay with us.
Why Hotel Miramar, Singapore?
✅A 13-minute walk from Chinatown subway station, this contemporary hotel is 7 km from bustling Sentosa, a resort and amusement park.
✅Polished rooms come with free Wi-Fi, satellite TV, and tea and coffeemaking facilities. Room service is available 24/7.
✅Breakfast and parking are complimentary. There's a relaxed lounge, a cafe and a Japanese restaurant.
✅Other amenities include a fitness room, a spa, and an outdoor pool with a hot tub
Courtyard by Marriott Seoul Times Square
Find everything you need to move forward in Seoul at Courtyard Seoul Times Square. Located in the city center's Times Square entertainment and shopping complex, our downtown Seoul hotel places guests a short subway ride from attractions such as Seoul National University, Itaewon and Myeongdong. Designed with comfort and style at the forefront.
Why Courtyard by Marriott Seoul Times Square?
✅Set inside the Times Square shopping complex, this contemporary hotel is a 5-minute walk from Yeongdeungpo train station, and 53 minutes by subway from Seoul National University.
✅Polished rooms with city views offer free Wi-Fi and flat-screen TVs, as well as marble bathrooms, minibars, and tea and coffeemaking facilities. Room service is available.
✅Other amenities include a 24-hour fitness center, and a hip cafe with an open kitchen, along with a business center and 6 meeting rooms.
Rail Pass on Mon 17 Jun 24
The Japan Rail Pass is a multi-use, discounted rail ticket. It
gives you unlimited access to all Japan Rail National trains, bus
services, ferry services, and airport transfers. Enjoy your
discovery of Japan with the most cost-effective travel option
available.
To travel with your 7-day JR Pass, means to have the unique
opportunity to discover the whole country at almost the same price, you would pay for a return ticket from Tokyo to Kyoto (including the airport transfer), on a Shinkansen. Compared to standard Japan train tickets, the JR Pass represents the biggest discount on Japanese public transportation that you can get.
***Valid For Travel From Toyko To Kyoyo
***Valid For Travel To Osaka Airport From Kyoto
***Can be used for day trips to Hakone (My Fuji) Nara And Osaka
Hotel Monterey Ginza
Shortly after turning from Ginza Street to the historical Ginza Yanagidori Street, you will find Monterey Ginza, where a red cloth tent appears and disappears behind the green willow branches waving in the wind. A quiet and relaxing lobby welcomes you, like a hideaway in the middle of the hustle and bustle, where you forget the bustle of the main street. We have installed "Mirable" ultra-fine mist in all guest rooms to make your hotel stay more comfortable and give you a different bath experience than usual.
Why Hotel Monterey Ginza?
✅Amid the high-end shops of the Ginza district, this sophisticated hotel is a 2-minute walk from Ginza-itchōme metro station and a 13-minute walk from the famed Tsukiji Fish Market.
✅Streamlined rooms with parquet floors feature complimentary Wi-Fi and flat-screen TVs. All come with desks, minifridges, and tea and coffeemaking facilities.
✅There's a wood-paneled French restaurant; a breakfast buffet is offered for a charge. Meeting and event facilities are available
Mercure Kyoto Station
Mercure Kyoto Station is the first Mercure brand hotel in the Kansai region. The main lobby features an installation of an origami kemari (Heian era football) made from handmade Japanese paper and a colorful design wall composed of blown glass spheres that is sure to provide an elegant start to your trip.
''With 1200 years of history, Kyoto is known as Japan's best city for culture and tradition."Pastimes of Heian nobility"-inspired the motif and interior designs of the hotel. we will ensure you a comfortable stay and experience the local culture.''
Why Mercure Kyoto Station?
✅In the bustling, central Shimogyō-ku district, this polished hotel is a 6-minute walk from Kyoto train station, 7 minutes' walk from Kyoto Tower and 4 km from Kiyomizu-dera Temple.
✅Featuring stylish, modern furnishings, the compact rooms have Wi-Fi, flat-screen TVs and minifridges. Some offer city and/or tower views. Upgraded rooms add pull-out sofas.
✅Amenities include a sleek Italian restaurant and a bar. Breakfast is available.
Price and Departures:
Deposit: £600pp
✅X76393 Heathrow from £2929pp
✅X76472 Manchester from £2945pp
✅X76475 Edinburgh from £2909pp
✅X76481 Birmingham from £3019pp
How to Book:
☎️CALL 0208 585 4020
Email holidays@travelpack.com
Terms & Conditions:
Based on 2 adults sharing
Offer Includes
All International Flights with Baggage
3 Nights at Hotel Miramar, Singapore in a Deluxe Room with Bed & Breakfast
3 Nights at Courtyard by Marriott Seoul Times Square in a Standard Room with Bed & Breakfast
3 Nights at Hotel Monterey Ginza, Tokyo in a Standard Room with Bed & Breakfast
Rail Pass for the duration (Use to transfer Tokyo to Kyoto, Kyoto to Osaka Airport) Can also be used for Sightseeing (Hakone for Mt Fuji/Nara/Osaka/Kobe)
2 Nights at Mercure Kyoto Station in a Standard Room with Bed & Breakfast
Private Transfers
Meal Plans