A Taste of Northern India - A Gourmet Tour
A Taste of Northern India - A Gourmet Tour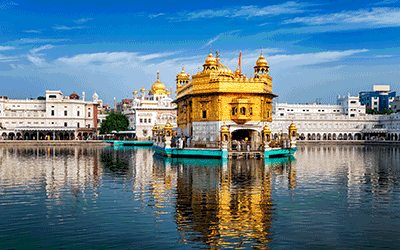 £2169
01 Apr 18
30 Jun 18
15 Apr 18

Note:
- Taj Mahal will be closed on Fridays
- No Elephant ride during Navratri Festival
Highlights: Delhi - Amritsar - Jaipur - Agra - Lucknow
Alternate travel dates: 1 Sept 18 - 20 Sept 18
Hotels:
Delhi - Radisson Blu Plaza Delhi Airport 5*
Amritsar - Ramada 4*
Jaipur - Radisson Jaipur City Center 4*
Agra - Radisson Blu Hotel Agra Taj East Gate 5*
Lucknow - Vivanta by Taj - Gomti Nagar 5*
Itinerary:
Day 0: London Heathrow to Delhi by flight
Day 1: Arrive Delhi
- 11:40 Hrs: Arrive Delhi airport.
- Upon arrival at the airport, you will be met and transferred to your hotel.
- Afternoon you will enjoy visiting Chandni Chowk, often called the food capital of India, is famous for its street food. The variety consists of snacks, especially chaat. If you wish to enjoy it, shed your high-brow attitude to soak in the flavors and delicacies.
Chandni Chowk resembles a fair everyday. The streets are lined with halwais (sweet-sellers), namkeen wallahs (sellers of savouries) and Paranthewallahs (sellers of rich, flaky breads soaked in ghee). A good idea would be to start with the Paranthewali Gali. It became a famous gourmet locality when the parantha shops moved here in the 1870s.
The real flavour of the Delhi street food lies in the chaat. The original chaat is a mixture of potato pieces, crispy fried bread, Dahi Bhalla, gram and tangy-salty spices. Kachori, usually stuffed with pulses and served with potato curry, is another delicacy that makes your mouth water.
Day 2: Delhi
- Full day sightseeing tour of Delhi.
- You will get a feel for this city as you explore its historic sights.
- Raj Ghat which is located on the banks of the river Yamuna, This is Mahatma Gandhi's Memorial, where he was cremated following his assassination in January 1948. Opposite the Red Fort lies Jama Masjid made of red sandstone and white marble, completed in 1656. It is India's largest mosque. Explore the bustling cultural delight of the colourful market on the 'cycle rickshaw' for a unique experience from the Red Fort, through "Chandni Chowk" or Silver Street, experiencing the sights and sounds of this very busy avenue-heading west from the Fort. You will take a view of Red Fort – the 17th century imposing fortress built in red sandstone is surrounded by a huge boundary wall 33m high. Inside are exquisite palaces and beautiful gardens.
Afternoon you will head into New Delhi, visiting Humayun's Tomb, an impressive garden tomb with high arches and a double dome, built by his wife Haji Begum in the 16th Century. An early example of Mughal architecture considered the predecessor of the Taj Mahal. Then continue on to the wonderful Qutab Minar - the landmark of Delhi, the beautiful grounds feature the well preserve a huge tower of victory standing over 72 meters. You will drive on to Rajpath and through to India Gate and the Lutyens Delhi with its tree lined boulevards leading to the British Viceroy's Palace (Rashtrapati Bhavan) now the official residence of the President of India, the Secretariat, India Gate and Parliament House.
In evening you will be visiting The Great Kabab Factory to enjoy Kababs. The product and service offering at a The Great Kabab FactoryTM premium outlet is quintessentially the same as at every other outlet, however, the ingredients used, elevate the guest experience to another level. The Great Kabab FactoryTM was born with the creation of the first restaurant at the Radisson Hotel Delhi in 1998. The restaurant's overwhelming success paved the way for franchising the brand, leading to an incredible growth which today finds its presence across five countries, making it one of the largest Indian restaurant chain in its category. The Great Kabab FactoryTM is an Indian speciality restaurant offering you a unique dining experience. 
Day 3: Delhi to Amritsar by train
- Transfer to New Delhi railway station to board train for Amritsar.
- Local snacks, tea or coffee will be served on board.
- Upon arrival you will be met and transferred to your hotel.
- Afternoon visit local market to enjoy local taste of Amritsari Cuisine (Amritsari Chole & Kulcha, Amritsari Fish Fry)
Day 4: Amritsar
- At leisure to explore, the spiritual centre of the Sikh religion - the Golden Temple complex (visitors to the Golden Temple must remove their shoes, wash their feet and cover their heads with a scarf),
and Jallianwala Bagh the site of an infamous massacre that took place in 1919.
- Afternoon excursion to Wagah Border.
Day 5: Amritsar to Delhi by train and Delhi to Jaipur by surface
- Transferred to Amritsar railway station to board train for Delhi.
- 11:15 hrs: Arrive Delhi railway station.
- Upon arrival at Delhi railway station, you will drive straight to Jaipur, the famed 'Pink City' and the capital of Rajasthan known for its palaces, three hill forts and a shopper's paradise.
Day 6: Jaipur
- Morning excursion to Amber - capital of the old state of Dhundhar, located on the rugged hills that surround Jaipur.
- Ride the colourfully painted elephants up the hill, admire the massive gateways, courts, stairways, pillared pavilions and palaces that recall the glory and wealth of Amber's association with the Mughals.
- During the afternoon visit the City Palace (still houses the erstwhile Royal family); Jantar Mantar - the Royal Observatory and Hawa Mahal (Palace of Winds) - built for the royal ladies to watch the activities on the market street below without being observed themselves.
- Evening you will enjoy cooking demonstration (Laal Maans, Rajasthani Sula, Gatta ki Sabzi, Daal-Bati-Churma etc)
- Rajasthani cuisine, is a splendid array of unique, rich, colorful, spicy curries and mouth-watering delicious sweets.
Day 7: Jaipur to Agra by surface
- Drive to Agra, en route visit Fatehpur Sikri - the imperial ruins of the dream capital city of the Great Mughal Emperor - Akbar.
- Evening at leisure.
Day 8: Agra
- Visit the Taj Mahal in the morning by sunrise. The Mughal Emperor Shah Jahan in memory of his favourite wife, Mumtaz Mahal, who died in 1631, built one of the world's most famous buildings, the 'Taj Mahal'. Its perfect proportions and exquisite craftsmanship have been described as 'a vision, a dream, a poem, and a wonder'.
- In the afternoon you will visit the 16th century Agra fort. This commanding red sandstone monument stretches 2.5 kilometres along the banks of River Yamuna, encompasses serene gardens and terrace pavilions, with striking views providing glimpse of the magnificent Taj Mahal across the river and Tomb of Itmad-ud- Daulah.
Evening enjoy Mughlai cuisine (Seekh Kebab,Biryani, Chicken Tikka etc) the taste of Mughlai cuisine vary from extremely milt to spicy, and is often associated with a distinctive aroma and the taste of ground and whole spices.
Day 9: Agra to Lucknow by train
- Transfer from hotel to Tundla railway station in time to board train for Lucknow.
- Local snacks, tea or coffee will be served on board.
- 12:30 hrs: Arrive Lucknow railway station.
- Upon arrival at Lucknow railway station you will be transferred to your hotel.
- Evening enjoy Awadhi Cuisine (Mutton Biryani, Chakhle's Shami Kebab, Makhmali Murgh etc) is from the city of Lucknow, Awadh has been greatly influenced by Mughal cooking techniques.
Day 10: Lucknow
- Today after breakfast you will enjoy city tour visiting Bara Imambara.
Bara Imambara:
Bara means big, and an imambara is a shrine built by Shia Muslims for the purpose of Azadari. It was built in 1784 by he forth Nawab of Awadh known as Asaf-ud-Daula. The Bara Immambara is among the grandest buildings of Lucknow
Chattar Manzil or Umbrella Palace, was constructed by order of Nawab Ghazi Uddin Haider and completed after his death by his successor. It is one of the imposing structures built by the Nawabs of Lucknow. Jama Masjid – located in the centre of the centre of the old city, this congregational mosque was built by Sultan Ahmed Shah in 1423 built in yellow sandstone. It combines the best of Hindu and Muslim styles of architecture. Rumi Darwaza - of Lucknow is one of the most impressive architectural structures in India. Clock Tower – The huge tower was constructed by Nawab Nasir-ud-Din haider in the year 1880.
Day 11: Lucknow to Delhi by train
- Morning at leisure.
- Transfer from hotel to Lucknow railway station in time to board your train for Delhi.
- Local snacks, tea or coffee and Dinner will be served on board.
- Upon arrival at Delhi railway station you will be transferred to your hotel.
Day 12: Delhi to London Heathrow
- Transfer to the airport to board flight for London Heathrow.
Offer Includes
Flights from London with Virgin Atlantic
Airport taxes
11 nights accommodation on Bed & Breakfast basis
All transfers, sightseeing and excursions by private air-conditioned car
Services of local English speaking Guide as per the itinerary during city tour
Entrance fees to the monuments
Jeep ride at Amber Fort, Jaipur
Train fare for the sector: Delhi - Amritsar - Delhi & Lucknow - Delhi by air-conditioned Executive chair car
Train fare for the sector: Agra - Lucknow by air-conditioned chair car
1 Cooking demonstration with Dinner at each city
Meal Plans